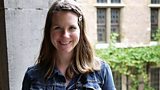 Helene Sears
is senior editorial designer for BBC News visual journalism
Blog posts in total 3
Posts
Ever wondered what your cat gets up to once it leaves the cat flap? The Horizon programme, in collaboration with the Royal Veterinary College, set off to a Surrey village with GPS trackers and collar 'cat cams' to find out. While the idea seemed light-hearted to begin with there was some seriou...

Recently I had the pleasure of working on US Elections on the BBC News site, a subject I'm especially passionate about as an American living in London. My team produces a huge range of infographics that accompany our daily online news stories and we also do the UX design for larger...

My name is Helene Sears and I'm an Editorial Designer for BBC News. My team produces a huge range of visuals including all of the daily charts, maps and infographics that accompany our online news stories.