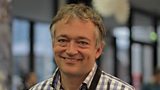 Peter Rippon
Editor Online Archive,
Blog posts in total 3
Posts
Eight indy teams who successfully wowed us at the Connected Studio event in January came to build prototypes and hone their ideas. We were housed in the Titanic Centre in Belfast, long hours sat on chairs rumoured to have been made for the ship itself.

Audiences get to control their own serendipitous journeys into our content within a context curated by BBC Journalists, so experiences remain relevant and rich with public service value.

Journalists like me believe we can combine the archive and digital technology to create new and powerful forms of public service storytelling. We can connect the archive to events happening now, and to News being consumed today, in a way that audiences routinely see the world with more knowledge, understanding and sense of their place in it.