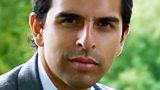 Cyrus Saihan
Head, Business Development, BBC Future Media
Blog posts in total 3
Posts
If you have an Oculus Rift developer kit, you can download the experience yourself on a MAC or on a PC. Try it out and let us know what you think.

As mentioned in my post yesterday, in Business Development at the BBC we partner with a range of companies in the digital and technology space to keep the BBC at the cutting edge of...

Hi I'm Cyrus Saihan, head of Business Development in the BBC's Future Media division. In Business Development we work with third party digital and technology companies to make sure that we are using the latest technologies and platforms to help us make BBC products...