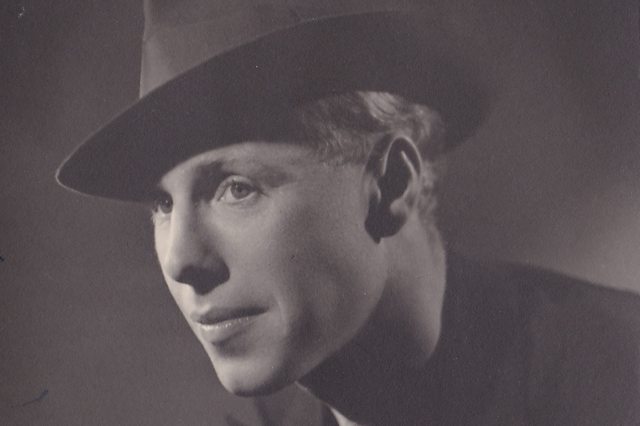 Giles Cooper photographed in 1946. Image courtesy of the Giles Cooper estate.
Guest blogger Professor Hugh Chignell, director of the Centre for Media History at Bournemouth University, looks back at the work of the prolific playwright Giles Cooper.
One of the things BBC Genome does so well is to remind us about people who made major contributions to broadcasting in the past but have now been forgotten. A good example of this neglect is the playwright, Giles Cooper, who was born 100 years ago this month.
Giles Cooper is probably best known for his adaptations of Georges Simenon's Maigret novels for television but he was also one of the most prolific of all BBC radio dramatists. In a career lasting from 1950 to his early death in 1966, he wrote 12 plays for the Third Programme, 31 for the Home Service and seven for the Light Programme, a total of 50 different dramas. He deserves a special place in a history of radio drama not only because of his considerable output but because he probably did more than anyone to develop the drama written specifically for radio with plays like Under the Loofah Tree and Unman, Wittering and Zigo.
Giles Cooper was born in Dublin, in 1918, just a few miles from the birthplace of Samuel Beckett 12 years earlier. The family's expectations were that he would join the diplomatic service. Instead, in an early act of rebellion, he attended the Webber Douglas School of Singing and Drama and left with an acting qualification aged 21, just as World War Two began. Giles Cooper's wartime experiences had a decisive influence on his writing; he spent the first two and a half years in England, initially in the ranks and then as a commissioned officer, before embarking on a troop ship, eventually arriving in Mumbai before continuing on to the Burmese jungle where he endured the appalling conditions of jungle warfare for more than two years. A number of his most important plays concern military life and the tail-end of the British Empire.
In the late 1940s, Cooper experimented by writing stage plays and a novel before being encouraged to write for the BBC. In 1949 he completed two short radio plays, both of which were subsequently broadcast; Thieves Rush In and Never Get Out.
As BBC Genome reveals, following the broadcast of his first two radio dramas, Cooper was clearly considered a useful contributor of adaptations of stage plays, especially those filling the matinee slot on the Home Service. Then in 1952 he adapted Charles Dickens's Oliver Twist in 12 parts. His adaptation must have been approved of by senior staff in the Drama department because it led to Cooper being given a more permanent position. His main task as a BBC writer was adapting populist drama in long-running serials. A six-part television serial, Epitaph for a Spy and then Ngaio Marsh's Artists in Crime, Dorothy L Sayer's The Nine Tailors and William Golding's Lord of the Flies.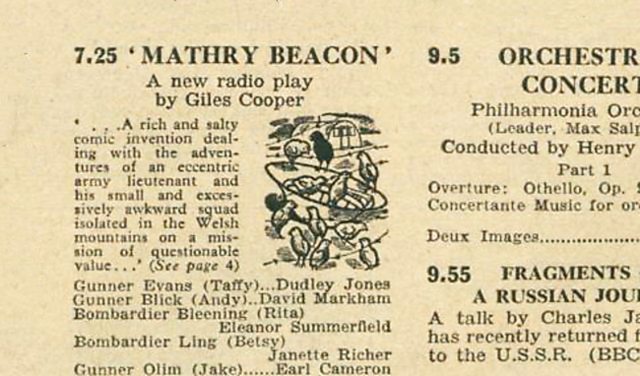 The billing for Cooper's play Mathry Beacon, transmitted on the Third Programme on 18 June 1956. Cooper's first billing as a writer was in 1950, though he had featured on BBC radio as an actor before that
Mathry Beacon (1956) was Cooper's first radio drama success, a one hour thirty-five minute play for radio about a group of soldiers - all archetypes of army life - sent to guard a mysterious "deflector", designed to repel incoming missiles, during World War Two. Mathry Beacon is the name of the hill on which they are based, somewhere in Wales, and at the beginning of the play we hear a jazz trumpet and then the voices of the soldiers; two women, a Welshman, a "West Indian cockney" who plays the trumpet, an "educated man" and the man in charge, a retired sergeant-major, Lieutenant Gann. The soldiers arrive and are addressed by Gann in a parody of military jargon and meaningless barked orders.
The characters are all archetypes of army life; the sergeant-major talking nonsense (Gann), one naïve woman from the countryside (Betsie) and one more streetwise from the town (Rita), the jazz-playing West Indian (Olim), a crafty Welshman ("Taff") and the "educated man" (Blick) who is "very nearly but not quite an intellectual." Donald McWhinnie, the celebrated radio drama producer, created a drama which includes the sounds of "the deflector", making a variety of deep humming and other more mechanical sounds, a precursor to the Radiophonic Workshop, which was launched three years later in April 1958 and produced artificial sounds using a variety of techniques.
Giles Cooper's next major work written specifically for radio The Disagreeable Oyster (1957) was controversial. Some senior staff in BBC Radio strongly disliked Cooper's work and this included the Controller, Third Programme, John Morris. Morris reluctantly accepted the play, which was then broadcast four months later.
That The Disagreeable Oyster divided opinion in the BBC is not surprising, it is one of Cooper's most experimental plays, with the main character divided in two and played by two different actors; Bundy Major is the Mervyn Bundy "we see walking about the streets" and Bundy Minor is his critical inner voice. It is one of Cooper's most "absurd" plays and sexually explicit in places with multiple references to nudity and prostitution. Bundy has to travel to Leicester on urgent company business. When he arrives he has a series of adventures, which result in him being stripped by a group of rowdy women. Bundy, with his £34 pounds expenses, is freed from his controlling wife Alice, and the world is his oyster, but it is a very disagreeable one.
Cooper's Under the Loofah Tree (1958) concerns Edward Thwaite, one of Cooper's most down-trodden characters, oppressed by his wife and so taking refuge in the one place he is left alone, or so he thought, the bathroom. The play contains two simple elements, Edward's extraordinary fantasies based on his life and the constant interruptions as different people, even an encyclopedia salesman, try to speak to him through the bathroom door. The play features a variety of sound effects throughout including voice distortion and other more creative experiments with sound and was one of the first radio plays to make use of the Radiophonic Workshop.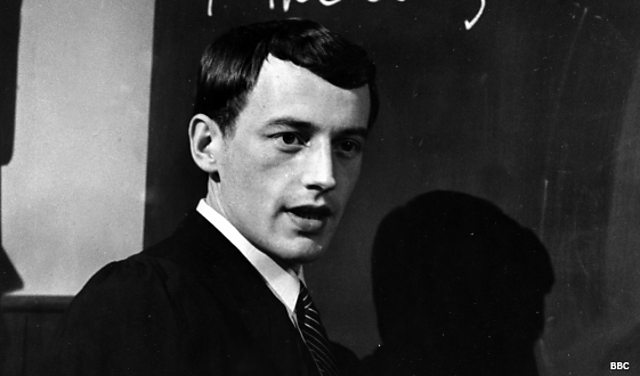 Peter Blythe in the TV version of Unman, Wittering and Zigo
Just three months after the August broadcast of Under the Loofah Tree, a completely different example of Giles Cooper's writing was heard on the Third Programme, the highly successful story of a school-master terrorised by his pupils, Unman, Wittering and Zigo (1958). The play is the story of John Ebony, an unsuccessful school master who arrives at Chantrey, a conventional, old English boarding school where he attempts to teach form Lower 5b following the sudden death of Pelham, Ebony's predecessor. Ebony is accompanied by another unsympathetic female character - his highly critical young wife, Nadia, who is not only appalled by the apartment, by the noisy railway line, but also by her husband's choice of career. Cooper's script captures the word play between the boys (or "men" as they insist on being called) and their new, hesitant teacher and as result this is a very naturalistic record of the boarding school world, with an unpleasant twist. When Ebony tries to discipline his students he learns the truth about Pelham:
EBONY: Stop! (Silence) Very well. You have had your warning. The form will stay in this afternoon from half-past two until I am satisfied with your behaviour.
CLOISTERMOUTH: It's not a good idea, sir.
EBONY: No, Cloistermouth? Tell me why not?
CLOISTERMOUTH: Well sir, Mr Pelham did it once.
CUTHBUN: The week before last, sir.
CLOISTERMOUTH: And that was why we killed him. (Dead silence).
Clearly, Unman, Wittering and Zigo is influenced by Golding's Lord of the Flies, adapted by Cooper just three years earlier. Golding's novel is also about the brutality and violence of uncontrolled adolescent boys and the cruel bullying of one individual; in Lord of the Flies, Piggy is murdered and in Cooper's play the target of merciless bullying, Wittering takes his own life.
Giles Cooper's contribution to radio drama was substantial and he probably did more than any other playwright to establish drama written specifically for radio. Before he became a regular writer of radio dramas in the mid 1950s most plays heard on radio were adaptations of stage plays or novels. With Mathry Beacon, and then with a series of other highly successful plays written for radio, Cooper helped establish drama written for radio. He achieved this by writing plays which worked better on radio than anywhere else, that were, in other words, "radiogenic". Of course it was the case that other writers, including Samuel Beckett, Louis MacNeice and Harold Pinter, also wrote successful, radiogenic drama but it was the sheer volume and diversity of Cooper's output that made him so influential.
Using BBC Genome it is easy to see what happened to Cooper in the late 1950s, he became the main script writer for the BBC's television series, Maigret. This major undertaking involved adapting over 20 episodes, all 50 minutes long. His television career blossomed in the 1960s but tragically in 1966 he fell from a train and died at the age of 48. Cooper's contribution was recognised by an award in his name, celebrating the best in BBC radio drama, held annually from 1978 until the early 1990s. He left behind an extraordinary legacy, which Genome has done much to reveal.