This year YOU DECIDE our UK Eurovision 2016 act!
Our biggest ever Eurovision song search has just got bigger as we are pleased to announce, for the first time in six years, the launch of a televised national selection show on BBC Four! The great British public will choose the song and the act that will represent the UK at this year's contest in Stockholm!
Eurovision: You Decide will be broadcast live on Friday 26th February on BBC Four where six shortlisted acts will take to the stage in a bid to impress the viewers at home and a professional panel as they compete for the honour of representing the United Kingdom at Eurovision 2016.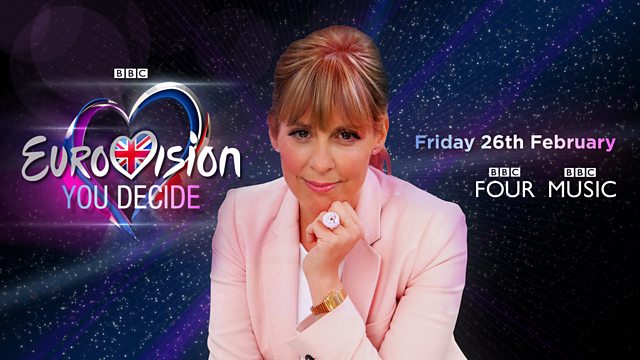 Hosted live from The O2 Forum Kentish Town by self-confessed Eurovision fan Mel Giedroyc, the 90 minute UK Eurovision extravaganza will feature performances by the six competing acts, as well as some special Eurovision musical guests.
Mel says: "I am a huge fan of 'the Eurovish' and am honoured to be hosting this fantastic event. It's very exciting that the Great British public will get the chance to choose who will be sent to Sweden and I know it's going to be an amazing night. I can't wait to get the party started!"
Accompanying Mel will be an expert panel who will be there to offer their thoughts on how the songs could be made to look and sound on stage in Stockholm.
The six shortlisted acts, who will be announced soon, have been chosen from three different routes of entry: Public submission, submissions to BASCA (the British Academy of Songwriters, Composers and Authors) and by British Music Industry consultant Hugh Goldsmith, former MD of RCA and founder of Innocent Records.
Eurovision: You Decide also heralds the arrival of our new home for the semi-finals - BBC Four! Broadcasting both semi-finals of the Eurovision Song Contest 2016 live from Stockholm on Tuesday 10th and Thursday 12th May. The Grand Final will be broadcast on BBC One on Saturday 14th.
You'll get the chance to attend on the big night as tickets for Eurovision: You Decide will go on sale on Friday 22 January at 10am right here on bbc.co.uk/eurovision. Tune in to Radio 2 the same day to hear Ken Bruce reveal which special guest musical acts will be performing.