EastEnders to go HD on Christmas Day!
Whilst you're feasting on roasties, gorging on chocolate log and pulling a cracker or two (oo-er) - you'll get an extra treat to indulge on Christmas Day - EastEnders broadcasting in high definition (HD)!
Not only will you be able to see every little detail of Albert Square in it's true form, but you'll also have the delight of being able to see beads of sweat sliding down Christian's pecs. Roll on HD.
The Queen Vic has even had a lovely refresh so it's all HD ready...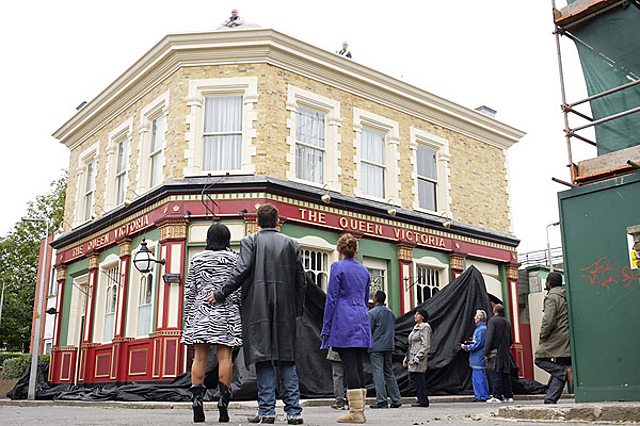 Bryan Kirkwood, Executive Producer EastEnders says: "Christmas Day in Walford is traditionally turkey, tinsel and turmoil for the residents of Albert Square. This year will be even more spectacular with viewers having the opportunity the watch the festive drama unfold in HD for the first time."
Does that mean we can watch vivid festive snotfests whilst stuffing our puffy faces on nuts and choccies?!
EastEnders will still be on BBC ONE HD up until Christmas Day, but it will be upscaled*.
*Upscaling info alert: This means that the number lines in the standard definition (SD) picture are effectively doubled - from 576 to 1080 - to fill the high definition (HD) screen. As the original material is still SD, the quality of the picture will not be equivalent to HD.
Are you HD ready? You'll certainly need to be ready for the bling in Pat's earrings.
Mmmm. Christian's guns.
Click here for more information on BBC ONE HD for the Press release. You can also read more about BBC ONE going HD on the BBC TV blog, where Danielle Nagler talks about the HD plans, including EastEnders.