Advent Calendar #11: Jean's Fishy Basket
Jean Slater is one of Walford's most experimental cooks - think Heston Blumenthal in a glittery cardi. Obviously, Sausage Surprise is her signature dish, but we happened across this amazing recipe in a cookery book, stashed under the sink in the Vic's kitchen. Perhaps a nice addition to your Christmas-week meal planner?
"Now, they say people eat with their eyes as well as their mouths. I create all of my signature dishes with this in mind. If it looks good enough to eat, it IS good enough to eat, that's my motto!
My Fishy Basket is so easy to make. But to look at it you'd think you'd spent HOURS slaving in the kitchen.
In fact, on the two occasions that I've made this dish, several people have refused point blank to dig in, saying that it looks too good to eat!!!! Didn't touch a morsel! Just enjoyed looking at it! Isn't that funny!?"
Jean's Fishy Basket (Pannier de Poisson Exotique)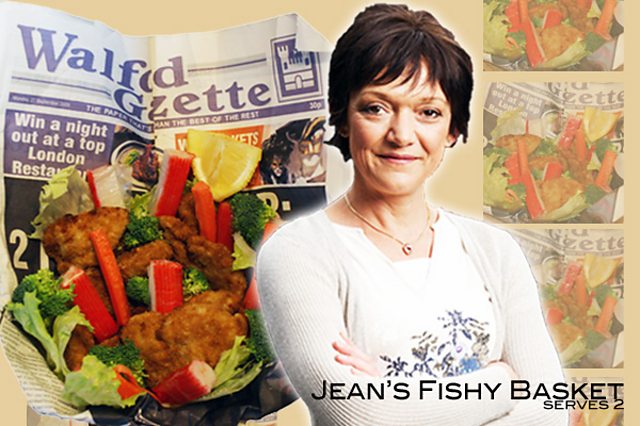 Ingredients*
Frozen scampi
Box of fish sticks
Veggies (anything you've got in the cupboard!)
Rollmops

• Cook the frozen scampi, see packet instructions.
• Boil vegetables
• While scampi is cooking, arrange lettuce leaf bed in your basket. Don't get so involved with lettuce arranging that you forget the scamp is in the oven like I did once!!!!
• Tip scampi into the lettuce leaf. Don't worry if some of it is burnt. You can use the rollmops to cover up any black bits.
• Arrange the vegetables. Be as creative as you dare! I always am!!!!
• Garnish with rollmops (see above)
• Keep jar of rollmops at hand should any of your quests want some more. They probably will. I always do!
• Enjoy!
* I'm very conscious of food miles and source all of my ingredients locally in the Minute Mart, Walford.