Not only is Kat back in Walford on Thursday 7th June - but she's about to embark in one of EastEnders' biggest storylines this summer!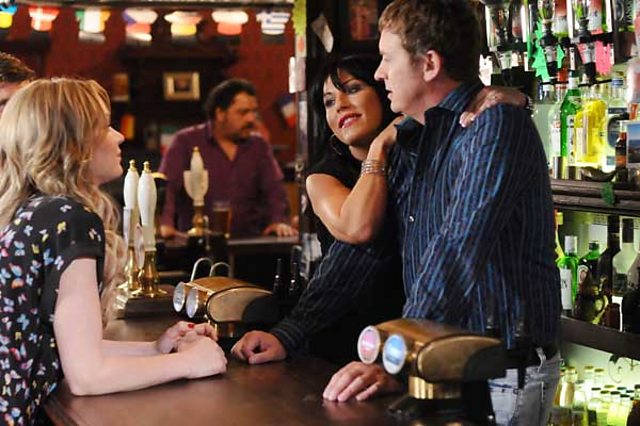 The Vic's lovable landlady is back behind the bar, but rather than return to a harmonious marriage with Alfie, she soon feels like the spark has fizzled out of her relationship.

Kat tries her best to get some quality time alone with Mr Moon, but he doesn't seem to realise that Kat wants the passion back in their relationship. When Kat doesn't get the attention at home, she finds it hard to resist the temptation to play away when someone else showers her with affection. Kat knows that she has a made a huge own-goal and is ridden with guilt, but even though she desperately tries to call off her affair, she finds her mystery lover impossible to resist.

This long-running storyline will start on screen next month and will leave the audience guessing who Kat's lover could be. There are at least five names in the frame, including a hat-trick Branning brothers! Viewers will be left guessing who Kat's mystery man is, as will the cast and crew. To make sure that the secret is not leaked before the mystery man's identity is revealed, all scenes with Kat's mysterious lover are being filmed with an extra.

Lorraine Newman, Executive Producer revealed, "The consequences are not only great for Kat and Alfie, but also for each individual suspect. The audience will join the cast and crew guessing across the summer and autumn as we eliminate the suspects one at a time, leading to one almighty explosion."

So, who's in the frame?:

Ray Dixon

Currently in a relationship with Kim Fox. Ray had a previous relationship with Bianca years ago and recently found out that he is Morgan's father. Ray is currently the chef in The Vic and his flirty banter has had Kim amongst others in a spin.

Michael Moon

Due to wed Janine Butcher, who is currently pregnant with his child. Michael and Kat have previously had an affair - which led to Tommy Moon. Although Michael has nothing to do with his son, it's possible he still carries a torch for Kat.

Max Branning

Currently living with his ex-wife Tanya and their 3 children. Max has a history of affairs, his most notorious one being with his daughter-in-law Stacey. Although Max seems happy with being back with Tanya, things in the bedroom aren't quite back to normal. Can he ever say no?

Derek Branning

The eldest of the Branning brothers. Derek hasn't had a relationship since he arrived in Walford and knowing Kat likes to live life on the edge, could he be the smooth criminal to put the spark back into her life?

Jack Branning

The sexiest man in soapland has been on the single market for some time since he got divorced from Ronnie. Kat and Jack have always got on well, especially since she was sympathetic to Jack's cause when they realised the truth about Ronnie snatching Tommy - who Jack believed to be his son, James. Jack used to be a womaniser, even sleeping with Ronnie's sister, Roxy, when they split up. Jack will no doubt be up for it.

Like our coverage of the 'Who's Stalking Phil' storyline before Christmas, The official Eastenders website will be following the mystery closely, with plenty of bonus content. But are we out to give you some clues - or red herrings?!