NTA red carpet as it happened
1640: Standing in the box-like media room at the O2, sipping hot black tea and watching twin sensation Jedward rehearse their 'Ice Ice Baby' pop classic, as presenter, Dermot O'Leary, links each act at the National Television Awards. Already, it looks as though the human toothbrushes will gain a media furore on stage.

1720: The media and paparazzi are escorted out to the surprisingly short red carpet. Lots of dedicated TV fans are shouting out... Why isn't this award show held in the Summer? It's not as if it's cold. I'm not wishing I wore a bigger coat. Not at all.

1745: Cheryl Fergison is the first EastEnders' star to be spotted signing autographs and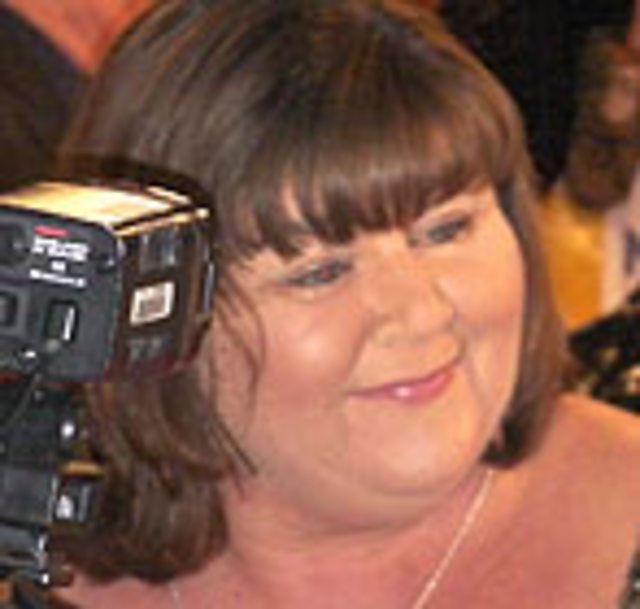 chatting to fans. The actor, who plays loveable
Heather
,
wears a black and silver floor-length sparkly number. She answers the question on every tabloid's lips "whodunnit?" Cheryl's reply: "I really don't know! I have no idea..." Her answer to Archie's killer continues... she doesn't know.
1755:
HUUUUGE CHEERS
from the crowds! Who is it??! I tip toe over the red-lit video cameras... It's the one and only Barbara Windsor (
Peggy
) daintily stepping out of her ride with her husband Scott Mitchell (yep, he's a Mitchell!) The acting legend works the red carpet like the wonderful starlet she is, wearing a silver floor-length sequined design. The hair? I'm sure Peggy would floor her for a barnet that good.
1756: Tabloid favourite of the moment... Charlie Clements is next to work the red rug as he fends off questions left, right and centre on his exit. HE DOESN'T KNOW how
Bradley's
leaving the Square. Sorry folks. How does he sum up his time at
EastEnders
in five words? "
Fun
,
hard work
,
friendship
and
experience
." With a wink to boot. We love you, Charlie.
1805: Educated British actor, writer, comedian, television presenter and film director (*and breath*), Stephen Fry, works the crowd. I can't help but notice that he's playing with the zip on his flies. Hhmmmm. The famous Twitter spoke of his tweeting: "I haven't tweeted a single tweet, but I may have to break my habit tonight." Did he? Talking of Twitter... thank you for following us as we updated you from the red carpet!

1810: Quite a few other stars mingle from Joanna Lumley (draped in a rainbow of colours), X-Factor winner, Joe McElderry, Piers Morgan to Gavin and Stacey writer and actor, James Corden. Then, ex-EastEnder Kara Tointon walks towards me wearing a gaaawwwwg black and silver gathered dress, looking extremely petite and pretty. She flashes her mega-watt smile and says: "It's nice to see all of my friends again." Aaaaww.

1820: OMG... who's arriving? The crowd go wild!!! It can't be Babs again? No, it's comedian Michael McIntyre. He signs autographs 'furiously' (that's just fast to you and I). I try to get a piece of him to ask about EastEnders'... I give up.

1825: The shivers are starting to take over. Even the men are complaining behind the barriers. Will I? Not out loud. I'll just mumble to myself.

1830: Phil Mitchell hardnut, Steve McFadden, approaches me with a hoard of video cameras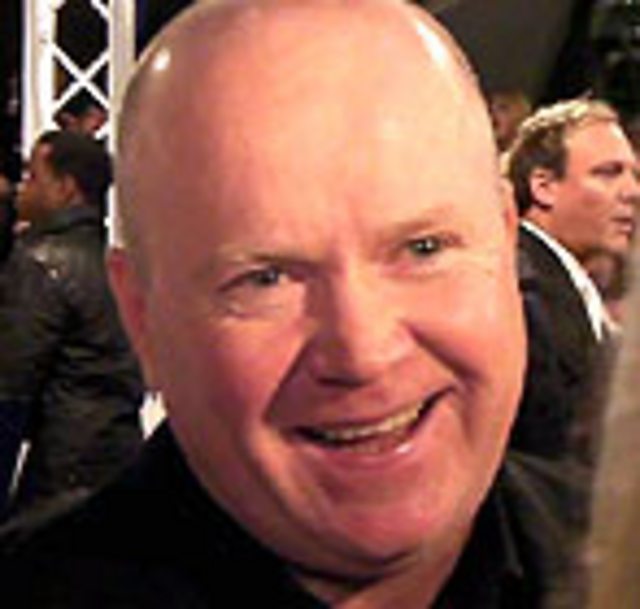 gathering, pushing and shoving. He's smiling and explains to all the pointing vids that he has no idea who killed Archie. "The scripts haven't been written yet." When will Steve pick up a gong for his marvellous acting anyway? Who agrees? That man is... a legend.
1845: Oooooh... too hot to trott! Johnny Partridge (
Christian
), Marc Elliott (
Syed
) and
Most Popular Newcomer
nominee Neil McDermott (
Ryan
) are man-hugging and chatting to journalists. Who are following extremely closely behind? The gaggle of Loose Women ladies. In the words of Walford's gossip Queen,
Dot
: "Ooh I say!"
1850: Where are my toes? The shivers are now becoming unsightly body shakes. Good look. Whilst I'm looking highly inappropriate, preggers' Danni Minogue looks dashing in a cream and black glam dress, and a hairpinned updo. Her fella is standing nearby... unable to take his eyes off of the X-Factor lovely. I don't blame him.
1851: Nitin Ganatra, who plays alpha-mail postie and catering businessman
Masood
steps out of his car with Nina, who plays his bossy, pregnant wife,
Zainab
. But what is his biggest indulgence? Mahoosive Saturday night takeaways? Pricey designer togs? Travelling first-class? No. Cheese and onion crisps. I prefer salt and cracked black pepper.
1855: Nearly half an hour until the NTA ceremony takes place. Here come the presenting duo Ant n' Dec, bosom buddies Katie Price and Michelle Heaton and JEDWARD!!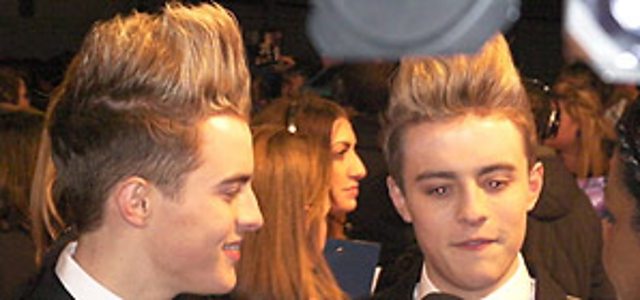 Massive cheers for the twin sensation. Who'd have thought it?!! The duo sport matching grey and black chequered suits with a black bow tie. They can't wait to sing in front of our stars either. Are they nervous? "It's all good nerves."

1915: Sid Owen arrives. I write it down. Where's he gone? I overhear ex-Popstars and Corrie actor, Kym Marsh, say of the Most Popular Serial Drama category: "If we don't win tonight then I'll be quietly sulking." We don't want that, do we?"

1925: Music mogul Simon Cowell arrives... and don't we know it! Draped on his arm, of course, is Sinitta (recent reject of Dancing on Ice) and another lady in her party frock. His teeth are whiter than Dubai's beaches.

1930: Just as I am about to hobble back into the journo media box to warm up with a cuppa...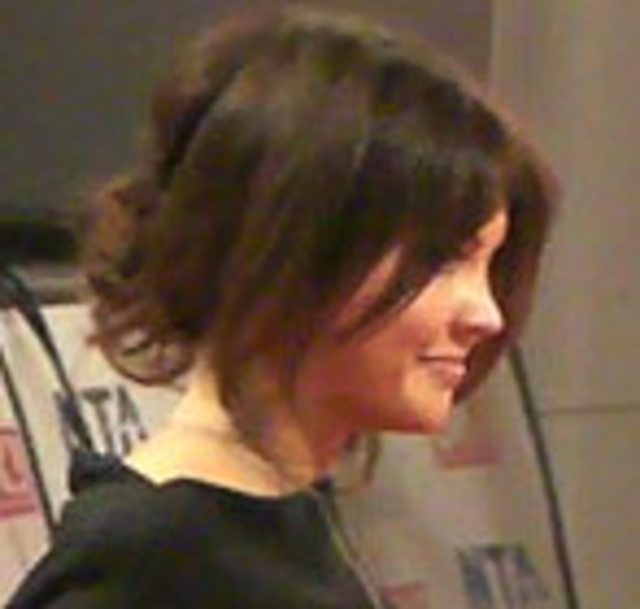 Lacey Turner, nominee of
Outstanding Serial Performance
, for her role of troubled
Stacey Slater
arrives. She's rushed with her sister in tow to the paps to pose, then ushered into the O2. Stylishly late, girl! I like it.
1933: Assuming the ceremony has begun inside... Cheryl Cole arrives very fashionably late! Looking damn hot in a ground-sweeping silver Stephane Rolland gown with cuffs and blinding earrings which sway as she signs autographs to screaming and crying fans... you gotta give it to 'em for standing their so long!
Biggest cheer of the night:
Babs was way up there, alongside Cheryl and Danni.
1937: Limp into media room to platters of triangle sandwiches (yum. Saviour). The
EastEnders'
cast are on the TV screen in the room.
1950: A lady walks in to us to announce the first five winners of the night before it is announced on screen. Love it.
LACEY TURNER
wins in her category. My body is back, as I leap to my feet. Soon after,
Outstanding Serial Performance
is announced to the auditorium and Lacey graciously accepts the award. The most notable and touching
part of her speech: "A massive, massive thank you to Gillian Wright. Thank you so, so much!" No, thank you, Lacey.