Ever wondered what it was like to work on EastEnders? Well, wonder no longer, as we bring you exclusive insights into the variety of cogs that whir in the great machine that is EastEnders - allowing you to meet the family behind the family! This week, we spoke to Carly, Carrie, Jane, Kayla and Nathalie; The EastEnders Schedulers.
What is a scheduler?

We are the lynchpin between editorial and Production. We are involved in the process from the initial 'story ideas' right through to Final Scripts and Shooting Schedule, which we then hand over to the production teams.
Our endeavour is to enable the writer's ideas to be achieved within the practical limits of budgets, time, and artist and set availability.
What's the hardest part of the job?

Trying to juggle the forward planning to keep the machine working, whilst trying to deal with the 'fallout' of any unforeseen problems e.g. if an actor has a major storyline and has to go off sick – we will then reschedule in order to continue filming whilst having to come up with alternative plans. We have to be aware of other departments and their needs, as one slight change could generate a domino effect, impinging on every other aspect of the show.
And what's the best part of the job?
The 'system' at EastEnders has been carefully created in order to try and accommodate each Department's needs. Representing Production and to be part of the 'story' process is quite unique. It's a real privilege to listen to the writers' ideas, working with them and the Editors to achieve their vision.
There are so many variants and so many elements – it's like doing a Rubik's Cube, but ten times the size! So when you get everything all lined up – it's a massive achievement.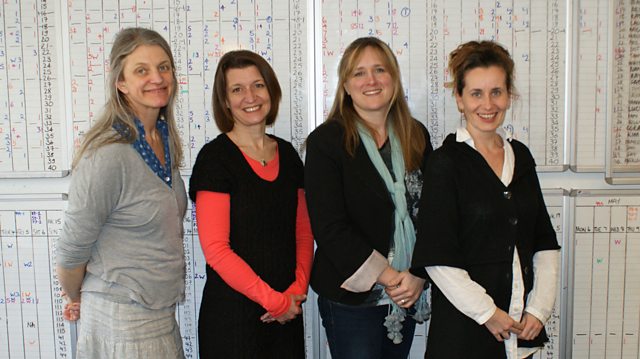 How did you get into scheduling, and what advice would you give someone who is interested in this job?

We have all come through Production, starting as runners and working our way through the Assistant Director route on various Dramas. Our advice would be to start in Production and gain as much understanding and experience of the filming process as possible. To do this job, you would have to have a logical, multi-tasking, problem-solving mind whilst still maintain a creative understanding of the writer's vision
What is the build-up to Christmas filming like?

The build-up to Christmas is a very complex and busy time, which involves a lot of forward planning due to the amount of cast required in each story to give it the typical EastEnders Christmas 'Faaamily' feel! We will be creating schedules which involve our entire cast being shared between different production teams – in studios and sets which also have to be shared!
 
How do you feel about working for EastEnders?

We work on the biggest show on the BBC, what's not to like about that? We are all very proud to be part of the show that people always want to talk about!