Is it that time of year already? REALLY?!? (*Eyes widen and breath shortens*)
Surely it's not that momentous occasion where the red carpets are rolled out, the super dooper A-List sashay into the O2, the camera's click and the fashion police are on guard!!??? (*AND BREATHE!*)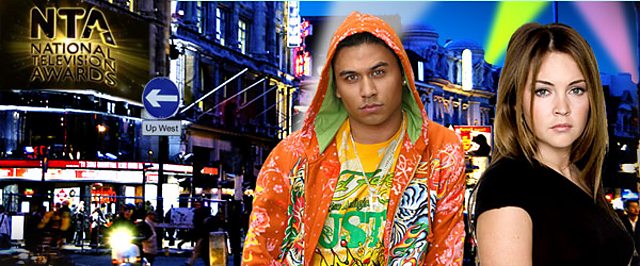 OH YES, PEOPLE! It's National Television Awards time. Oh how the year has flown!
These awards are voted for ENTIRELY by the viewers... so it's your chance to make your vote count.
Here are EastEnders' nominations to choose from:
Most Popular Serial Drama
EastEnders
Serial Drama Performance
Lindsey Coulson (Carol Jackson)
After a 13-year-absence from Walford, Carol's returned as the quick-tempered, over-bearing mother to her brood. Carol's over-protective nature is sometimes the curse of her and Lindsey has a lot more emotional turbulance to be screened... COMING SOON!
Marc Elliott (Syed Masood)
Marc's seen Syed fall for Amira, but fall even deeper for Christian. On New Year's Day his character married Amira, but against all his family's values... his heart was tugged in Christian's direction. The tears could have flooded the Square when the love triangle was revealed! Poor Syed had to endure the backlash and rejection from his family... all for true love.
Don Gilet (Lucas Johnson)
Doesn't Don make a magnificent messed up man of the cloth? That description may not be written at the top of his character's profile, but the preacher has managed to spiral out of control over the last year. On top of killing his ex-wife Trina, he strangled Owen, kidnapped and pretended his wife, Denise, was dead and then held his family captive. Brilliant!
Steve McFadden (Phil Mitchell)
WOW! Steve McFadden has excelled once again with his dramatic performances as badboy Phil. Over the last year he's fallen off the wagon, seen Ben go to a young offenders institute, became hooked on drugs, set fire to the Vic and said goodbye to his "muvva". Phew. Steve is a legend.
Diane Parish (Denise Johnson)
Poor Dee has been through the mill. Little did she know that her hubster, Lucas, was actually a murderer... until, of course, he confessed, kidnapped and banged her up in a cellar. The preacher even made her thank him for a plastic bag of supplies and asked why she was laying in the dark!? Erh... it's a cellar? I ask ya. Diane's had her work cut out.
Lacey Turner (Stacey Branning)
Lacey took home the gong at last year's ceremony for an unbelievable year of turmoil in Stacey's life. Yet again, the poor lamb has had to endure more heartache. She's watched her hubby fall to his death (we're still welling up over Bradders), admitted to being Archie's killer (did I call her a poor lamb?!!), gave birth to Lily, found out her best friend dobbed Bradders intot he cops... AND she revealed to Ryan that he's her daughter's father. Oh boy.
Most Popular Newcomer
Ricky Norwood (Fatboy)
"Hey baby girl." Oh, don'tcha just love Fatboy?! Since his arrival in E20, he's charmed his way around the Square. The wide boy may be a wheeler-dealer, but he's a loveable sweetheart with a pimped up ice cream van for wheels. Show him some love and vote for Ricky as Fats.
Make your choices on the National Television Awards website - you have until 11.59pm on Monday, 11 October. A shortlist will be published in early January.
The 16th NTA ceremony takes place on 26 January 2011 at the 02.