Dame Barbara Windsor to return to EastEnders for the very last time…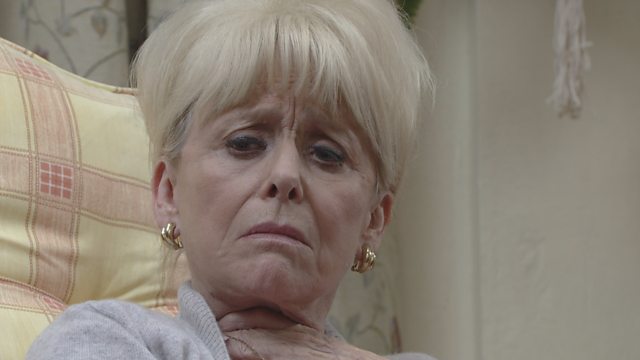 EastEnders legend, Dame Barbara Windsor is to return to EastEnders, but this time it will be the last as Peggy Mitchell bows out from Walford forever.
Viewers saw a surprise return from Barbara in last night's episode (Friday 15th January) in which Peggy admitted to her son, Phil, that the cancer she had previously won the battle with has returned. However, sadly, this time Peggy will not win the fight. These scenes were secretly filmed in November 2015 and it is the start of what will be Barbara's final episodes in EastEnders.
The decision for Peggy to have her final swan song was made by Barbara last summer and since then the storyline has been planned with Barbara's input.
Talking about leaving Peggy behind forever, Barbara said "Everyone knows I love EastEnders and that will never change. Peggy is a character close to my heart but I made the decision a while ago that I need to say goodbye to Peggy once and for all as otherwise she will always be there, urging me to go back and that is something I need to shut the door on. After thinking long and hard about it, I realised that it is time for me and the audience to say our final farewells to the lady who I have loved for many years and I thought that whilst the guvnor, who I adore, is still in charge I want him to be the one to oversee it. I am grateful that Dominic has accepted my decision and together, since late last summer, we have been secretly plotting Peggy's last scenes."
Dominic Treadwell-Collins, Executive Producer adds: "Barbara is the real guvnor of EastEnders. So when she told me her decision back in the summer, we both had a little cry before getting excited about how Peggy Mitchell, the matriarch to end all matriarchs could bid her final farewell to Albert Square.
"In Peggy Mitchell, Barbara has created one of the greatest ever characters on British television, someone who has become as synonymous with EastEnders as The Queen Vic itself. So this is the end of an EastEnders era. But it is also an opportunity to send Peggy Mitchell out in style in what will be one of the most heartbreaking, uplifting and epic exits an EastEnders character has ever had.
"We can't wait to have Barbara back at EastEnders, even if it is for the final time. The most professional of professionals on set and off, and a true friend, we have all been working harder than ever to make Barbara and Peggy Mitchell proud."
Peggy's final scenes are set to transmit in the late spring of 2015.