We caught up with EastEnders boss Lorraine Newman as she starts her first New Year as Exec Producer. Read on to find out what's in store for 2013...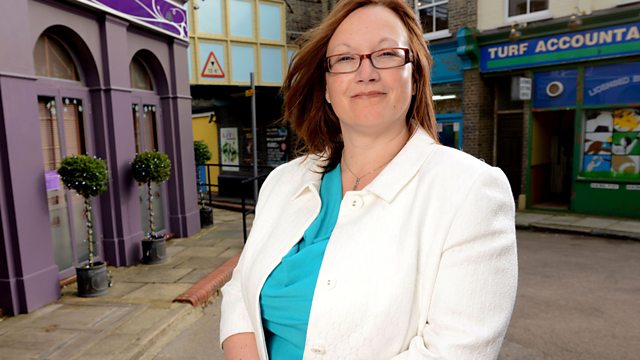 What was your highlight of 2012?
It was definitely the Olympic torch episode. Not only was it a great episode, it was a great achievement for EastEnders. It really felt like we connected with the entire country that day. The event was 18 months in the planning. Teaming up with BBC Sport was a first for us and the Olympic Torch Team were so accommodating. On the night itself, when the Olympic Flame arrived, our actors were in total awe. Delivering a live episode is such an incredible team effort and the resulting episode had such warmth and energy to it. I was incredibly proud of Perry (Billy) and Danielle (Lola), who I thought were absolutely amazing. Later that evening, Perry told me that if he'd died that night, he'd have gone with a huge smile on his face. I probably would have too!
If you had one word to sum up your vision for EastEnders in 2013 what would it be?
Can I have three? I think warmth, family and friendships. I think you see a side of a person with their friends that you never, ever see with a loved one or with their parents. This year, we also need to focus on our families, and develop our various clans. The Brannings have undoubtedly been a great strength for us over the last few years but what will the show look like in five years time? Who will the big families be? I think it's about planning for that, to ensure that the show remains incredibly strong and that we utilise the great talent that we've got. We have some amazing actors and actresses and it's important that we have a healthy balance of material.
So can we expect to see new faces in 2013?
You definitely can. But that's all I'm saying!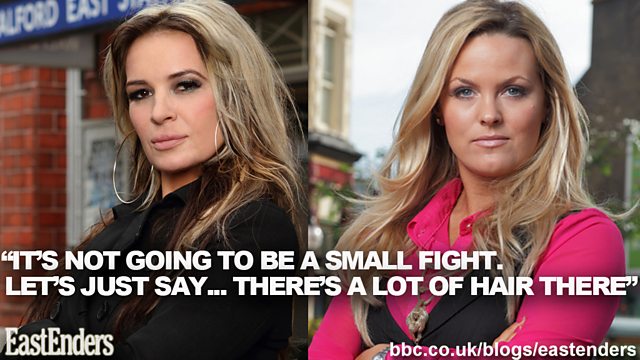 Let's look at one of the new faces we already know about. Kirsty arrived on Christmas Day. Can you tell us what kind of impact she'll have on the Branning family?
It's like a bomb's gone off. Not just for Derek, as we saw on Christmas Day, but also for Max and Tanya. There's a bit of a conundrum there - Tanya had rejected Max and when he left, he was devastated. His path crossed with Kirsty at a time when he was clearly trying to deal with his pain from Tanya and now it's come back to haunt him in a huge way. But Kirsty's tenacious, she's not going to let him go.
Tanya's tenacious too though, isn't she?
She is indeed. It's not going to be a small fight. Let's just say - there's a lot of hair there!
Which returning characters will we see in 2013?
You'll see a sharp slow-down in returning characters this year. Obviously I'm delighted that we've got both Dot returning in the New Year and the return of Janine but we need to be careful to maintain the balance. We have to look forward, look to the future. I think you'll see an injection of new characters with a sprinkling of old!
Can you tell us about Dot's return?
Dot returns to find that Cora has left her house in chaos so quickly puts that to rights and sends her on her way with a flea in her ear. She also becomes quite a strong matriarchal figure for Poppy and Fatboy. They're a slightly unusual little family group but they give us huge amounts of joy and warmth which is great. Cora has left quite a timebomb for Dot to contend with.
And what about Janine's return? We take it that she isn't going to come back quietly?
While she's been away we've seen Michael fall head over heels in love with Scarlett – there was some lovely stuff with him and Scarlett over Christmas. And just how will Michael deal with Janine? I can't imagine either of them will play a fair game! Both Michael and Janine are such fun to write for, the writers get to play out all the things they've never had the nerve to do in real life!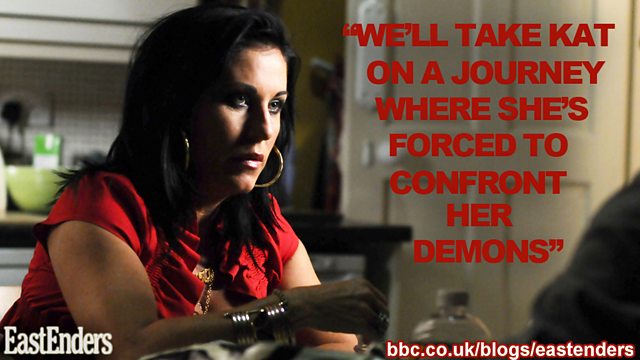 What plans do you have for Kat and Alfie? Do you think they should be together?
Kat needs a little bit of time to find herself again. I personally think that she's become quite damaged and somewhat lost over the past few years. The cycle that she and Alfie got into became quite painful to watch. We adore Alfie and should be allowed to enjoy that but, more importantly, I think Kat should be allowed to move on too from her history of sexual abuse.
So, over the next 12 months, we'll take Kat on a journey where she's forced to confront her demons and hopefully come out the other side a stronger person. Her past will always remain with her but I hope that it stops her from continually making the same tortuous mistakes and allows her to find some happiness and peace for herself.
What do you want for Alfie?
I want him to be happy! I love having him in the pub, he's such a breath of fresh air in there, and now he's started a tentative relationship with Roxy. Roxy, being Roxy, obviously jumped in there head-first-think-later, and then the panic of 'Oh no, I really like him! I want this to be serious, what am I doing!?' hits her with a bang.
Inevitably she will have huge wobbles as to whether he is on the rebound and he will have to prove to her otherwise. So we'll have some fun with them as they embark on this new journey.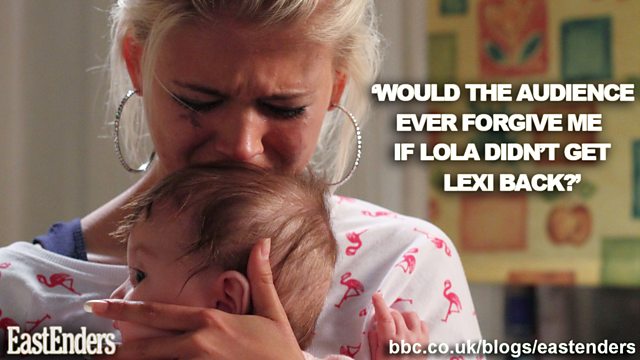 Will Lola get Lexi back? Please say she will!
Would the audience ever forgive me if she didn't?! The question is when and how? I love the friendship group of Jay, Abi and Lola – and with Ava's son Dexter crossing in to that group too, it becomes stronger still. The strength and support of that friendship will help to give her confidence for the future.
Our audience won't forgive us if we don't ask you if you'll have more topless Joey Branning in 2013?

How gratuitous!! I take all my actors and actresses stories and storylines very seriously!! And wouldn't dream of planning such blatant behaviour! (Smiles wickedly….)
But seriously, what's in store for Joey and Lauren?
Lauren's obviously very troubled. A huge amount of what we're seeing now is to do with what's been going on with her parents for such a long time. It's a tough one covering the issue of binge drinking because inevitably, in order for it to have sufficient impact, it has to go on for a considerable amount of time. There's a real danger that it will become unpalatable and that you won't have too much empathy for the character.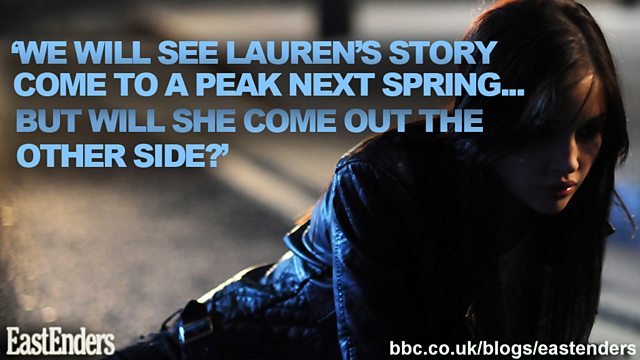 But Jacq's a fantastic actress and I think that those moments of vulnerability that we get from her are amazing. The moment after the car crash where Joey walked away from her was just heartbreaking and the pair of them together are just gorgeous. We weren't sure quite how their being cousins would sit with the audience but the audience do seem to adore them as a pairing over and above this. So there's clearly still plenty of story to unfold there.
We will see Lauren's story come to a peak next year but how will she deal with it? Will she come out the other side? What kind of impact is it going to have on her family? And, again, it's a huge issue story, something that's effecting so many teens, and the impact that it's having on the parents and the siblings is huge, it's something we'll be going into major detail with.
What are the other issues that you want to cover in 2013?
It's really important to reflect what's going on in the UK – poverty's clearly a big issue effecting so many people in so many different ways. The ongoing issue with Lola  will come to the fore and there are a couple of major medical issues which I'd like to explore next year…
You looked at the issue of adoption this year, with Cora's storyline. What's in store for Cora and Ava?
Ava and Cora have a very tricky relationship and I think what's quite interesting about Ava. Ava remains hesitant, partly due to the fact that she is aware that if Tanya hadn't intervened and contacted her, Cora would not have sought her out at all. Ultimately she's tentative for fear of being hurt.
They're quite spiky around each other and find it difficult to open up with each other. They're actually very similar characters, both quite stubborn, which makes it even more difficult to overcome that first hurdle. Ava will initially develop a stronger relationship with Tanya than she will have with Cora. It's far easier for her to find out about the family without it feeling so intrusive. As mentioned, we will also see the introduction of Dexter who's Ava's son, and we'll set Ava and Dexter up as a unit of their own.
Both Ava and Dexter will be involved in a big story with Bianca next year, which will help to introduce them both more into the Square. Dexter will also start working as a mechanic in the Arches and he and Jay will become very good friends.
What's next for Sharon and Jack… and Phil? What does Sharon get from each of them?
I think Phil makes Sharon feel safe. He knows her warts and all. And I think it's the same for him – she knows and understands his family, which is a big ask for anybody! The real danger for them is that we know that Sharon is addicted to medication and Phil has a history as an addict, so potentially it's a very, very dangerous combination. This is something that she's aware of too. I'm sure that's one thing that is telling her to keep him at arm's length.
With Jack it's the opportunity to start afresh, wipe the slate clean and be who she wants to be, so again that's quite attractive. But we all know that for Sharon, her past is really important to her, that's why that draw to Phil is never going to go away. Three people in that marriage, I feel!
We saw a couple of unexpected partnerships in 2012, like Fatboy and Denise. Will we see any more of those in 2013?
Ooh we like to surprise! I really enjoyed Fatboy and Denise and the audience appeared to too. It was unexpected and really gently and sweetly handled which I think is why it worked so incredibly well - and of course the audience adore Fatboy which is also a bonus. He's obviously now got his new lady and he'll be settling down over Christmas, which you may have seen in the red button. Next year we enjoy exploring the new relationship that is Fatboy and Poppy. And Denise will be on a new journey herself next year which I think the audience will also enjoy…..
This will be your first New Year as Exec on EastEnders. Are you enjoying it?
It is an amazing job, absolutely amazing, and slightly surreal as well! It's only when you step out of here that you realise quite how strange it is. But I'm totally loving it and looking forward to 2013!