EastEnders and Comic Relief have joined forces once again to reflect the problems faced by young people today. This time we'll be focussing on the growing problem of teen involvement with gangs.
Next month viewers will see Bianca losing control of 14 year-old Liam. She tries desperately to stop him going off the rails but he gets caught up in a gang... and thats when the trouble really starts. Can she make Liam stick to the right path and choose his family over his new gang?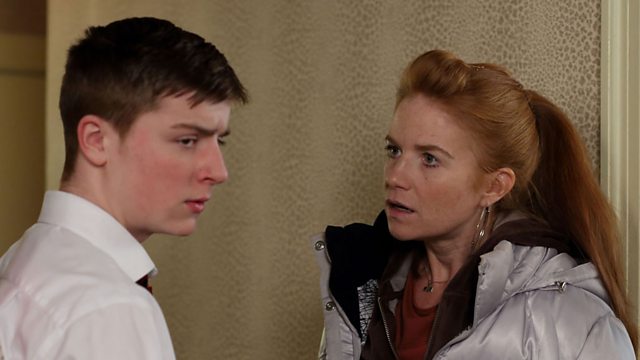 Together EastEnders and Comic Relief carefully researched this storyline to ensure it reflected this growing problem. We looked at why teenagers become involved in gangs and the devastating effects the culture can have on so many lives. 
"We are delighted to be working with Comic Relief once again," Lorraine Newman, Executive Producer, EastEnders, revealed. "This subject matter is something which is touching the lives of so many young people in London and other cities around the UK. We have taken the opportunity to see the impact from a mother''s perspective and Patsy Palmer gives a powerful performance of a mother doing all she can to protect her son. The telling of this story has also given us the chance to explore the reasons behind the attraction of gangs for teenagers."
Judith McNeill, Grants Director for Comic Relief added, "Comic Relief is really excited to be working with EastEnders again to highlight an important issue supported by Red Nose Day. This year's story line should play an important role in promoting greater understanding of why young people are vulnerable to becoming involved in gangs."
This storyline will start on our screens next month and there will be a six minute episode featured as part of BBC One's Comic Relief's night of TV on Friday 15th March 2013.