Will Ian get payback from Phil?
OH. MY. DAYS. Ian 'wannabe' Beale-ionaire finally stood up to Phil 'hard man' Mitchell on Friday after years of torment, humiliation and most recently... blackmail. The catering entrepreneur took great delight in giving the Phil-thy fella a piece of his mind over a stiff drink. Go Ian, go Ian...
... although, to be fair, his arch rival was writhing around the R&R floor, unable to string a sentence together and in the midst of having a heart attack (which proves he's actually got a heart! Shocker.)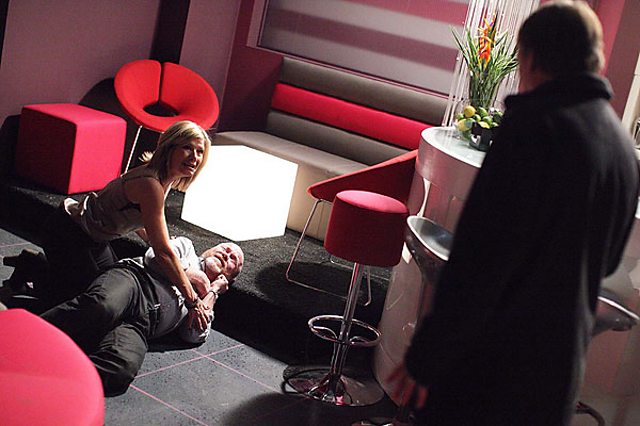 Never mind Phil's heart attack, what's with the luminous seat?!
Bright and breezily, Ian poured himself a short (and stiff) drink at the bar after walking in on scantily-clad Glenda tending to sick Phil.
After getting rid of his former fling, Ian took great pride in fobbing off the ambulance crew and releasing his heart-wrenching angst from over the years.
Let's be fair, Ian once had his head dunked and flushed down a bog by the big man!
Did Ian go bar-my at R&R for letting Phil come so close to death? What the heck will happen between the pair now?
Will Phil get revenge on letting him get so close to death?
The episode got A LOT of people talking on Friday, as 'Ian Beale' trended on Twitter worldwide. Were you one of them?