EE25: The Exhibition photos
Would you Adam and Eve it? This weekend a bit of Albert Square is on display celebrating 25 years of dramatic endings... and cor blimey it's a blinder.
Iconic props such as the Queen Victoria bust... better known as the murder weapon that walloped Archie is on display at the EE25: The exhibition in London's East End. Don't worry, the claret's been wiped off.
Take a butchers at some of these pics from the press night of the event... there was even a quiz to test everyone's knowledge of the show. We love it.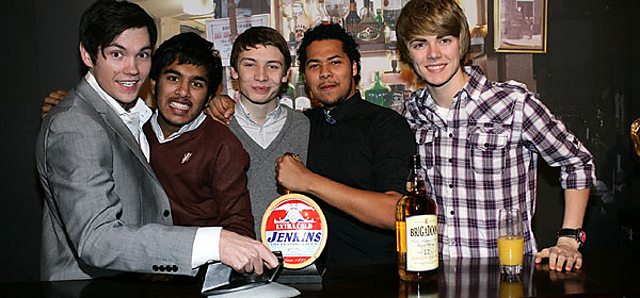 Sam (
Leon
from E20) gets domesticated with Little Mo's weapon of destruction behind the Queen Vic bar. The iron used to bash her 'orrid husband is in fact made of foam. What a revelation.
Cosily attached to striking Sam is high-spirited Himesh (Tamwar), host of the EastEnders' quiz Charlie G Hawkins takes central position (George's pop, Darren), Devon (returning Billie) and Tall Thomas (Peter) finishes the line up.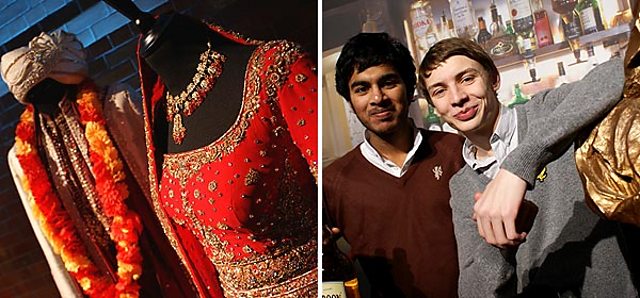 Syed
and
Amira
- one of the most short-lived weddings in Walford?! The King and Queen of that crown goes to
Peggy
and
Archie
. But, will Syed make it work with the poor princess? Two of the guests at that New Year's day bash was Tamwar (he got a snog!) and Darren (his secret was exposed!) The pair that play them were very happy to pose for our pics.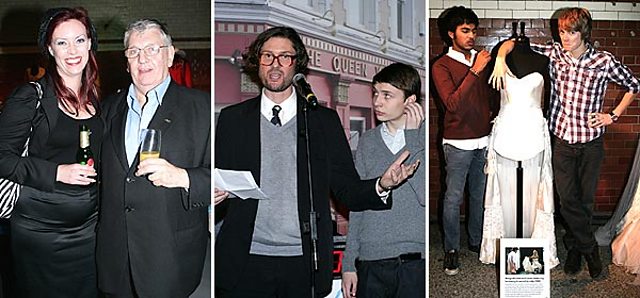 Journalist Sharon Marshall strikes a pose with delightful Derek, who plays mild-mannered
Charlie Slater
. Exec Producer, Diederick makes a speech on the show's quarter of a century drama... and strike a light it can be dramatic! Charlie G hears it for a second time, after having an earlier listen whilst parked on Arthur's bench. Meanwhile, Thomas and Himesh admire
Roxy's
revealing wedding dress. The brazen hussy.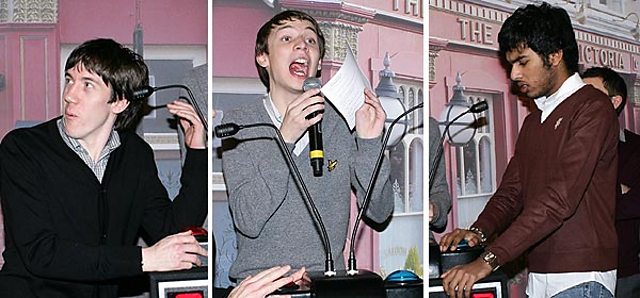 Even the actors struggle to answer the EastEnders quiz. I ask ya! Can you remember what name Mary the punk's child was called? Of course you can. It was Ruby... I mean Katie... I mean Annie.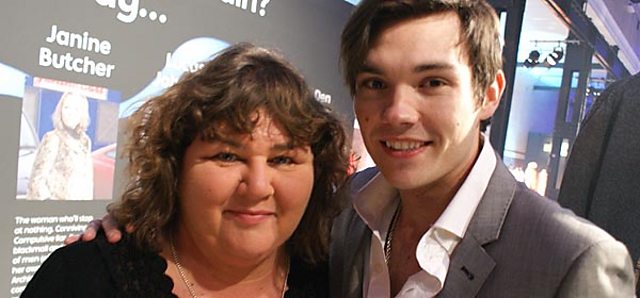 Cheryl and Sam both struggled to choose their biggest villain over the last 25 years. Instead they stuck their Doof Doof stickers on their noses... I know, that would have made a good snap! Surely Nick Cotton is the biggest villain, no? Or, Maybe Trevor Morgan? Or, what about... *wanders off in confused state*.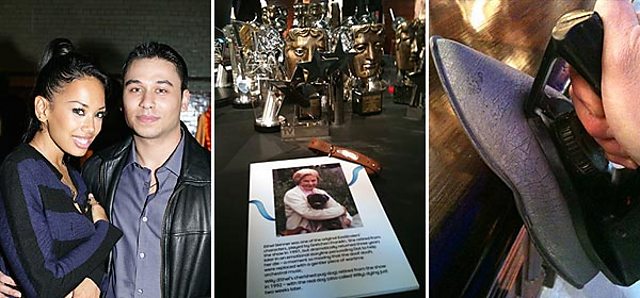 With a twinkle and a glint we have E20 star, Ricky with Sugababe, Jade. Fun-filled Ethel's pug's collar perched in front of an array of EastEnders' awards over the years... and bish bash bosh... Little Mo's foam iron. Well, we wouldn't really hurt actor Alex Ferns, would we?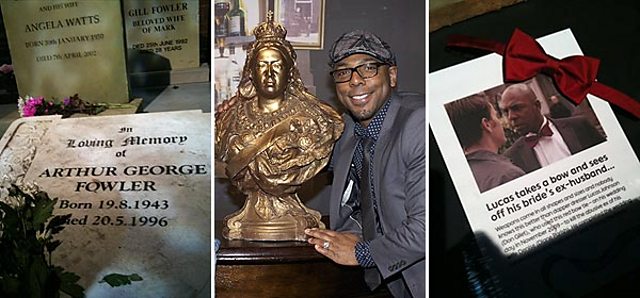 Shiver me timbers! It's Walford's cemetary where some of the brown bread residents lay to rest. Shhhh. Dapper Don poses with the latest in a long line of murder weapons... Her Majesty *curtsy*. Although this Victoria's no pearly Queen. And looky here... Don's dark character
Lucas's
bow tie (which sits beside the rake that killed Trina in the display cabinet). The evil preacher.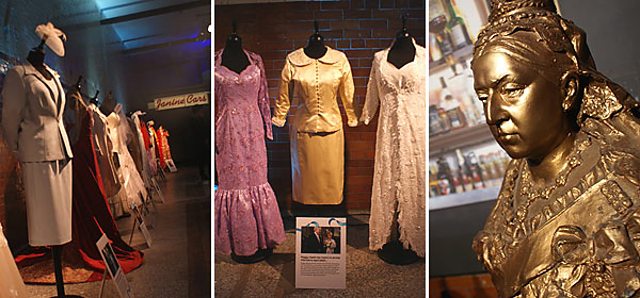 Check those wedding dresses from over the years. Peggy had three to choose from. Archie's high-necked number was at the bottom of that pile... good choice. Marrying the wotsit in the first place though? Not one of your best, Pegs. Beside the garb sits the infamous Queen Vic bust... she's sat on that bar for all those years and finally got her debut. All hail Vic!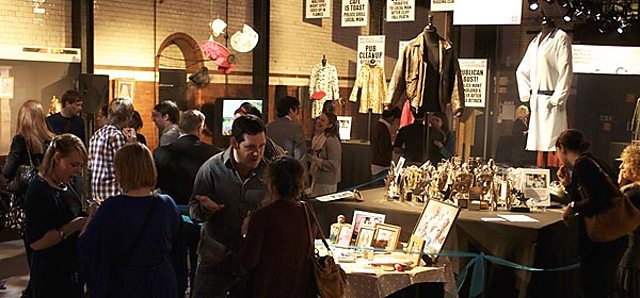 Check out The Fowler's family photos, along with
Dot's
driver's licence, Peggy's head warmers, Kat's coats and a fair few people having a natter inbetween. It's a corker.
See more pics from the exhibition on our Facebook page. There are more to come too!
Coming soon: A video tour of the exhibition presented by the cockney chancer, Charlie G Hawkins! Watch this space.
EastEnders 25: The Exhibition takes place on 5th and 6th February, in the run-up to the programme's live 25th anniversary episode which transmits on 19th February. You'd be a fool to miss it.