New funeral parlour opens on Albert Square
Les Coker, played by TV veteran Roger Sloman, is to become a permanent EastEnders character as he opens new premises on Albert Square. And Les isn't alone – he's joined by his busybody wife Pam, played by Lin Blakley.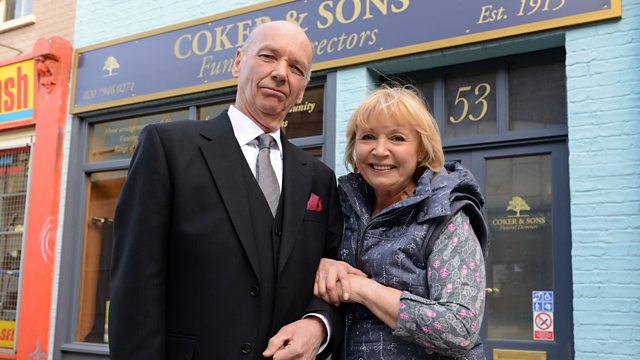 Les will be a familiar face to EastEnders viewers, who will have met him when he organised Pat's funeral. Now he's back and already up to his neck in the intrigue surrounding Nick Cotton's demise. The residents of Walford had better watch out, because Les will not only bury your loved ones, he'll bury your secrets too! We've already seen him in deep with mysterious Charlie Cotton but just how far is Les willing to go for money?
Pam's a small woman with a big heart and an even bigger shoulder to cry on. As well as her duties in the funeral parlour, Pam runs the flower stall on the market.  As a former social worker Pam's pretty unshockable, which is just as well as her friendliness and warmth will no doubt make her a confidant to many of the our favourite characters. But Les had better beware because her loyalty and willingness to forgive might be tested to the limit if she finds out what her husband is up to…
Roger Sloman's previous credits include Inside No.9, Shameless and Family Affairs. Speaking of joining EastEnders, Roger said: "It's hugely rewarding to be working alongside actors who I have a huge admiration for and have been a part of my life for so long. It is a thrill to play Les who has so many different angles and is not a straight forward character. It is also a pleasure to be working alongside Lin Blakley."
Lin Blakley has appeared in Doctors, Holby City and The Football Factory. Lin commented: "Being part of EastEnders is like going to work and being with another family, I'm really enjoying myself. Working with Roger has been wonderful from the word go, we have a laugh together and I feel like I have known him forever."
Dominic Treadwell-Collins, Executive Producer added: "Les and Pam are part of our plans to rejuvenate the show's older generation. It's already so exciting to watch the chemistry between Roger and Lin on set, playing characters who have been together for so long, they know each other inside out. Or so they think."