Ever wondered what it was like to work on EastEnders? Well, wonder no longer, as we bring you exclusive insights into the variety of cogs that whir in the great machine that is EastEnders - allowing you to meet the family behind the family!
This week, we spoke to Chris, Andrew and Steve from the EastEnders editing team in BBC Studios and Post Production, Jennie the post production and music coordinator and Johanne, the post production supervisor.
What are your day to day tasks within EastEnders post production?

Andrew: When I first started editing people would say to me, "Oh so you take out all the bad bits", but it's really the opposite... it's putting together the best bits in the best possible way, in order to tell the story.
Steve: There's always a compromise when filming because of the speed in which EastEnders turns around episode after episode.  A lot of the time we could be creating things that they may not have had time or chance to get in the studio.  The director knows that over four takes that he's got what he needs, and it's our job to identify this and fish it out… it is about finding those little nuggets!
Chris: …but making it appear that it's all from one time and seamless, so occasionally we have to sprinkle a bit of fairy dust on them.
Steve: It is the toughest editing gig I've ever done, and I've been editing for twenty odd years, but ultimately it is the most satisfying creatively, because you are improving what was originally shot.
Andrew: Back in the beginning it was shot on tape and it was only two episodes a week. The editors taking complete scenes that were shot in the studio, that were done in one go, and joining them all together in the right order.
These days, we literally pull the whole thing apart and start again. The team will shoot three or four different versions of a scene - different shot sizes, different camera angles, and then they will leave it to us to put it together in a way they think is best. We get notes - for example, character A is better in this take, while character B is better in this one…
Chris: It's like you've got several jigsaw puzzles, three similar pictures, but the shapes are slightly different.  You've got a line drawing of what you want to end up with and a pair of scissors, and you have to cut each of the little bits to try and join them up. Hopefully, you get the Mona Lisa at the end.
Jennie: And if she's smiling even better!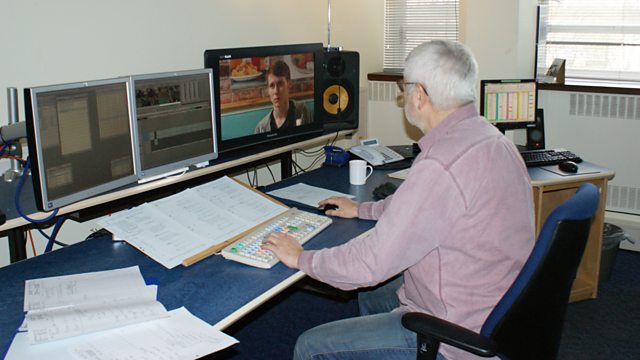 Johanne:  Jennie and I are the organisational pair, we make sure everything is in order, book the editors, liaise with the filming teams, clear the music, and make sure we deliver every episode fully tech reviewed and compliant to BBC One on time and in budget. 
Steve: One of the major things we do is edit subtext. Most of what we cut isn't someone giving someone a bunch of flowers… it's someone seeing someone give them a bunch of flowers. Knowing the show, we know what element of the subtext is important
Chris: It's not what's been said, it's very much the reactions to what's been said.
Jennie: Another important aspect of the process is adding music and effects to what has been shot. We are filming eight weeks in advance, so when you're putting music down, we have to try and anticipate what is likely to be in the charts, or big around that time.
Obviously it's a challenge to try and make sure everything is as up-to-date and relevant as possible.  I think people underestimate how much music is in EastEnders. We're looking at about 75 instances over the course of four episodes.  A lot of people don't even notice the music, but they would notice if it wasn't there.
Steve: It's my favourite part of the day when I get to put the effects on and choose the music.
Chris: A scene in someone's sitting room during the day, you wouldn't be drawn towards putting effects on that, but when you do put a bit of market on it, the sound of The Square; it's just lovely.  You start to believe that there is a market outside that window.
What's the best thing about your job?
Steve: I love working on a show that everyone's talking about, my kids love it, and it's a real buzz, especially at Christmas when you know what's coming up…
Andrew: We're working on the BBC'S top programme!
Chris: It's at the centre of the national culture.
Jennie: There's nothing quite like telling someone that you work on a show that they watch and they know.
Johanne: The team. We work hard and everyone does a great job.
Steve: We've been working here years and we still get excited being on set
Andrew: I think that's because, even though we're right next door to the studios, post production feels quite separate to the main production process, so it is still a thrill when you get to pop into the studio
Chris: And even seeing the cast around…You think 99% per cent of the population would give their eye teeth to be standing where I'm standing right now.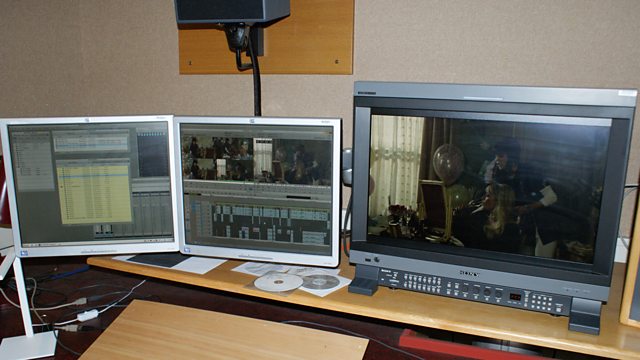 What can be the worst things about the job?
Jennie: The things you can't control, like the weather or cast sickness. The worst thing is over-long episodes, when you've got 36 minutes of TV gold that has to come down to 29 minutes.
Andrew: It's a pity as it takes time to shoot it in the studio, it takes us time to edit it, and then in the end it never gets seen. If it's nice stuff you can be quite loathed to get rid of it, but at the end of the day, it has to be a 29 minute episode.
How did you all come to be in this job role and what advice would you give?
Jennie: It's difficult nowadays… you have to forge your own career path as a young person, and you do have to go from contract to contract, trying to progress and gain new skills. In terms of getting into editing, you might want to start as a runner and then progress into an edit assistant… or you might start in a post-production house as the person that makes the tea and sorts out the lunches, from then working in a rushes library, to then getting your hands on the equipment.
It's all about what you're willing to put in as to what you get out of it. Unfortunately, we're in a very competitive culture, and there are so many people looking for jobs… you have to make sure that, if you're one of 25 people up for a job, what makes you better than everyone else? Getting lots of experience and working in a variety of places does really help.
Steve: EastEnders is one of those places where people come in, work as runners, and they do get the chance to progress. It is very pleasing when you see people come in and move up.
Chris: Editing in this job, you need a lot of experience as you really need to be able to hit the ground running.  Each editor has just three weeks to make their four episodes; we've all worked across various genres and have learned to deal with a huge volume of material before coming to EastEnders.
Johanne: I've worked in various Post Production roles, from digitizing and looking after transmission servers to scheduling and managing Post Production workflows and bookings for several programmes at one time.  It is satisfying to concentrate on only one programme only and be able to look at improving processes to make the area run as smoothly as possible.  If you are keen to get into Post Production then try and spend as much time as you can with an editor.  Working as a runner for a post house and shadowing their editors at the end of your shift is a good start.  If they see you're keen then you may be able to train up as an Edit Assistant then Editor one day.