The results: Walford Biggest Villain...
From pushing your new hubby off of a cliff to trying to poison your little 'ol ma... these villians stop at nothing to grab the limelight (and a few pennies in the pocket). How selfish! Some of them are just plain twisted (yep... that's you Trevor!)
At our EE25: The Exhibition a lot of blue 'Doof Doof' stickers were placed by you lovely lot to see who you thought Walford's biggest villian is.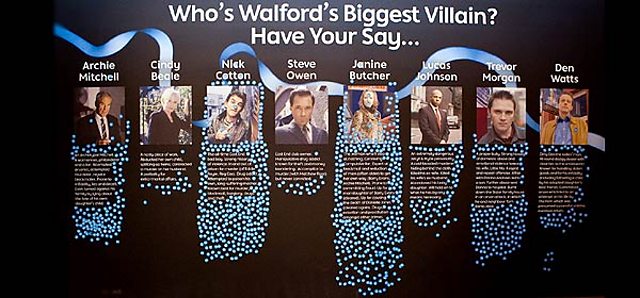 And the winner is... silence...no drum roll, thank you... Janine 'Brutal' Butcher! Sit yourself down love. There's no medal here.
Here's the rest of the crim rundown in order of how you voted at our East End exhibition...
2. Nick 'Crazed' Cotton
3. On even stevens is Archie 'Meddling' Mitchell and Trevor 'madman' Morgan
5. Den 'Wicked' Watts
6. Steve 'Orrid' Owen
7. Last, but lets not forget... Cindy 'Baddie' Beale
Surely that fringe is a criminal offence?!
Did you have your say? Who's your biggest, baddie? Let us know, or get talking on our Facebook page.