Did you miss the Vic fire? Or do you just want to watch the full episode again? I don't blame you. You can also watch catch-up clips... hooooooray!
shazza21 via the blog:
'Absolutely amazing episode. I was on the edge of my seat throughout, can't wait till tomorrow's episode!! Amazing acting from all cast!! Felt as if I was really there!!'

20:15:
How were the historic fire scenes filmed? Want to know how Nina Wadia (
Zainab
) injured herself in the explosion?
Watch the BBC THREE fire behind-the-scenes video
You can see more footage from the destruction of the Queen Vic in the BBC Three programme EastEnders: Kat and Alfie's Return (yep. they're coming back!), due to air on Friday, 24 September at 8.30pm:
Val R via Facebook:
'Tonight's episode was probably the best one I've ever seen. So emotional! I'm still filling up ... Well done to the writers!'
20.05: So.... yet more juicy revelations were exposed tonight... did you see the fifth one coming? 3, 2 and 1 will be revealed tomorrow... what will they be? Ooooooh the suspense is a killer...
Revelation 5: She's Your Daughter
Stacey finally did it. Ryan was told that he's Lily's father, and on his wedding day no less. That throws a bit of a spanner in the works for the newly weds. Has the honeymoon ended for Ryan and Janine, before it's even begun?
Revelation 4: Burn Vic Burn
OMG. Tonight the Queen Vic burnt to smithereens, and Phil was to blame. Anyone else notice his resemblance to Jack Nicholson in The Shining? Move over Jack, "Heeere's Phil"! Peggy looked destroyed as she shouted, "Let it burn". What will the Queen of the Vic do now that there's only burnt rubble for a throne?
See past revelations that were exposed earlier this week:
Countdown of revelations 7... 6...
Countdown of revelations 10... 9... 8...
emmajadex via Twitter: '#eastenders that was amazin!! I'm speechless.'

20:00: "Let it burn, let it burn..." must be the most gut-wrenching words that have uttered from the Walford icon - the Queen Vic's landlady is a legend. Heart Peggy and she may feel a little better!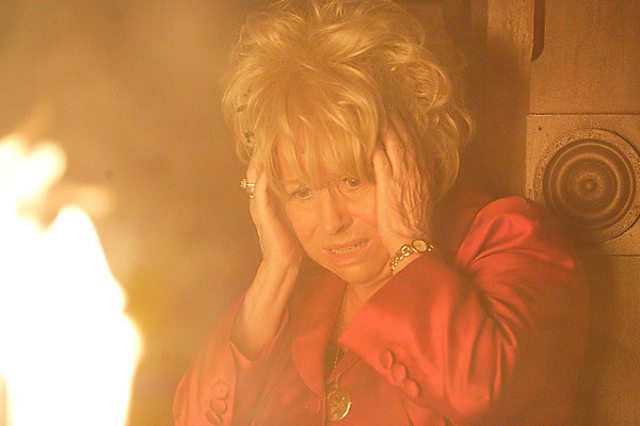 19:57: Stacey finally tells Ryan he's Lily's father! "She's yours. She's your daughter." Will the hero of the day make a good dad? Will he tell Janine?
19:56: Another explosion! This one's loud enough to grab Grant's attention from Spain.
Ryan falls from the ladder holding Stace...
19:51: Poor Pegs. Roxy may as well have smacked Peggy around the chops: "It's too late!"
19:46: OMG. An almighty explosion blows the heebeegeebees out of everyone.
The Vic batters out the flames which puts an abrupt stop to Janine and Ryan's wedding
reception... screams, smashed bottles, and lots of heat... you'd expect nothing less on one of Janine's wedding days!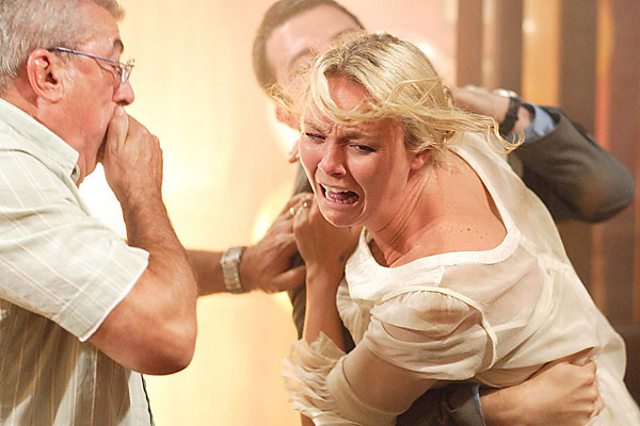 19.45: Sick Phil "I just want a little taster" Mitchell doesn't look so hard now does he?

His emotional showdown with his "muvva" proves to be fatal for the Walford legend, as the Queen Vic goes up in flames... NOOOOOOO!!
Phil: "My parting gift, mum." Did anyone ever tell Phil that it's dangerous to play with matches?!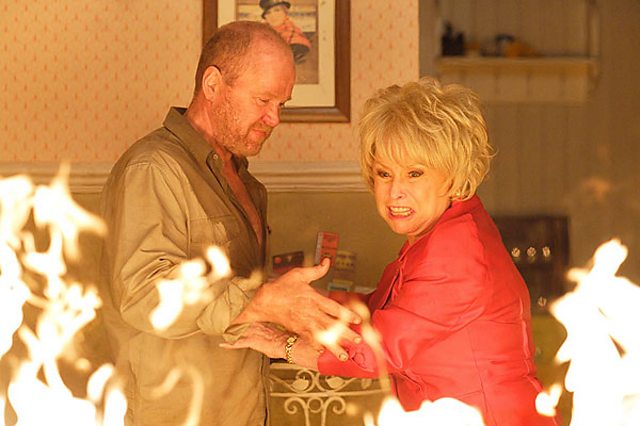 19:34: "Get outta ma pub" is shrieked at quivering Stacey, after revealing to Peggy that evil Archie raped her... AND SHE KILLED THE BLIGHTER. It's not gone down well with the iron lady. GULP. Has Peggy said her infamous line for the last time? Will the legendary matriarch call the copshop on Stace?
19:30: The opening credits are rolling and the intensity is building, as we begin to watch a whopper of an episode. After 25 years of fun, fisticuffs and family dramas... the Queen Vic won't go down without a fight! Are you sitting comfortably?
Give us YOUR reaction as the drama unfolds. You can also join our facebook event The Queen Vic LIVE discussion. Get on our Twitter page and get tweeting about the fire by using #vicfire.