He's been mentioned by doting mum Linda on frequent occasions, but we can now put a (handsome) face to the eldest Carter son, mischievous soldier, Lee.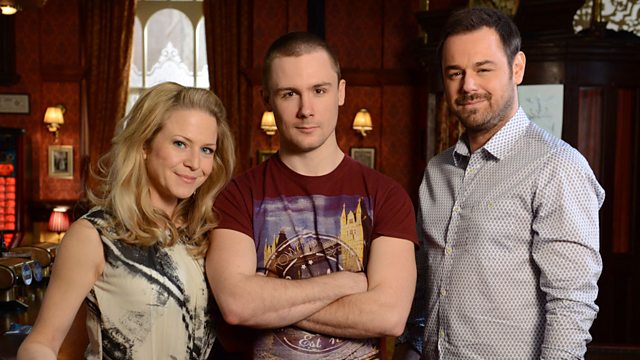 Lee's been serving in Afghanistan, so his parents are pleased as punch to have him back under their roof - and he seems more than happy to be there, if not to pull his own weight. His upbeat charm and - ahem - those arms are more than likely to have the Walford ladies falling over themselves for a meet and greet down The Vic.
Lee will be played by Danny Boy Hatchard (pictured above, centre, with Kellie Bright as Linda and Danny Dyer as Mick). Danny has recently finished touring with Suranne Jones in the critically-acclaimed theatre revival of Janathan Harvey's Beautiful Thing. He's also pretty chuffed to be joining The Square, saying:
"I'm incredibly excited to be a part of EastEnders, a show that my family and I have watched for years. It's an honour to have the chance to share the camera with such talented actors and I can't wait to get cracking and join the Carter family."
Executive Producer Dominic Treadwell-Collins has teased Lee's future, hinting that there may be a little more to him than meets the eye:
"Lee Carter is going to pelt into The Square, ruffle some feathers and immediately prove that he's a chip off his father's block. But why is Lee so keen to stay in Walford and not return to the army?"
Well, we may be speaking for ourselves, but Lee is welcome to ruffle our feathers anytime!
Danny Boy will film his first scenes for EastEnders in February.