Episode discussion for week commencing 13 February
This week on EastEnders...
We're sure all you romantics out there don't need reminding, but Tuesday is Valentine's Day! But what's this we hear? Party pooper Janine apparently plans to scrap a smoochie shindig at R&R due to a lack of DJ. Did someone say DJ? Surely Fat Boy should be in the mix when it comes to possible replacements? Looks like he's too busy spoiling his lady 'Fitney' with bundles of pressies and a foot massage though!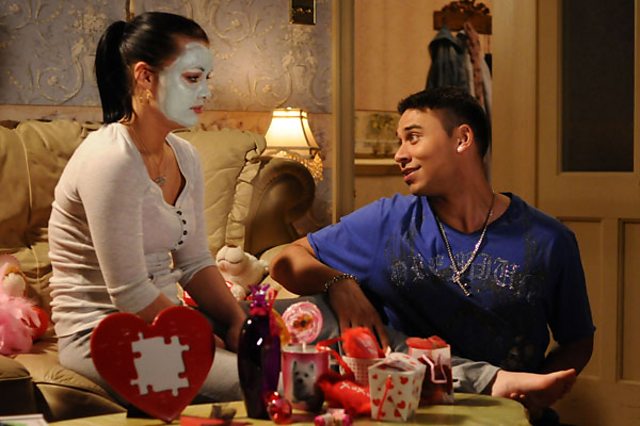 Meanwhile, a scheming Lucy plays the anti-cupid when she convinces Tyler that Fats is going to propose to Whit. Will Tyler be able to persuade Whitney that he will always love her more? He'll need to sweep her off her feet - or at least up the ante and offer her a shoulder rub...

Of course, there's a whole lot more lovin' going on between Heather and Andrew, even if Shirley's in danger of accidentally messing up Andrew's plans. Things certainly look tense over dinner. Perhaps Andrew's seeming determination to build a pyramid out of lager cans between courses is the root of the problem?

Looks like Andrew has some serious ring bling for Heather though. Okay, we put the sparkle on, but we're sure it's 24-carat!

It's a big deal when a cash-strapped Alfie visits dodgy Derek to discuss shady goings-on at The Vic - only to be made an offer he really should refuse. Will he accept a helping hand, only to find himself on the receiving end of Del's iron fist?

Of course this is only the tip of the iceberg heading towards the good ship Walford. Let's hear your thoughts on thse and plenty more shocks yet to be revealed as we head through the week!