Ever wondered what it was like to work on EastEnders? Well, wonder no longer, as we bring you exclusive insights into the variety of cogs that whir in the great machine that is EastEnders - allowing you to meet the family behind the family! This week, we spoke to Ceri Meyrick, Series Producer.
Could you explain the role of a Series Producer?
The role of series producer requires me to be a project manager across all aspects of EastEnders. On a day-to-day basis, I will book directors and get involved in the planning of storylines and the commissioning of writers. I also read two drafts of every script, of which there are five.
I am also responsible for watching the finished episodes before they transmit, which I usually watch in the dub when they put the final sound mix on, or I will do the Executive edit where the finished edit is shown… I will have seen every episode before transmission.
Beyond that, I work across all of the departments, making sure everyone's on the same page, and that we all end up with an episode that we're happy with. A lot of my job is about communication through the different stages of the process, as obviously an episode passes through a lot of different hands and different forms.
What part of that process would you say is the trickiest?
It can all be quite tricky.  Sometimes it can all go brilliantly but, of course, there are various little hitches that can happen. 
When the writer finishes an episode, we need to make sure that the Executive and editorial staff are happy. Does it match up to their expectations? Then it goes into the hands of a director and we have to ensure that the director understands what we're trying to get at too. 
There also may be difficulties in the schedule, for example, the actors' availability. We have to ensure that everything that takes place within filming works, and if it doesn't, is there a way we can put it all together in a way that makes sense in the final edit? There are a lot of places that can trip us up along the way!
What would you say is the best part of the job?
I do like being at the centre of a really big operation like EastEnders… the first day I arrived it just blew my mind! What I like is going around all the different departments and just sticking your nose into their business! I love how everyone is so passionate about the programme and so hard-working and dedicated. I love all of the energy that flows around this place.
Making up stories with the different characters is so much fun… shutting ourselves away and just making up stories. Also, reading scripts and just being swept away by a story that you thought you knew, but then the writer tells it in a way that you weren't expecting.
It's great watching the finished performance, as the actors always bring something that you didn't expect to the show, and always take it to another level that is far better than you ever imagined! I also love the response when it goes out on TV… good or bad!... your name's on it and people are talking about it everywhere.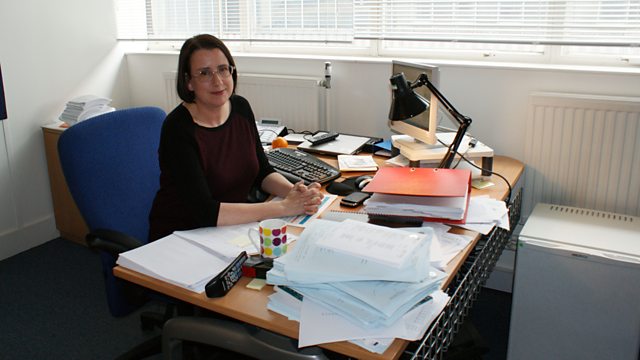 The first thing I do when I come in every day is read the audience comments, some of which are really insightful and interesting.  It's really good to be able to tune into what the audience think about what you've done, and if they've been moved to contact the BBC by something they've watched on television.
I really enjoy getting the actors to come up and talk about their characters. They are so dedicated and passionate about them – ultimate storytellers. To meet someone whose specialist subject is Alfie or Kat or Cora, that's amazing, because you learn so much from them.
So have you got a favourite character?
Oh no – I wouldn't dare!
What are your favourite storylines, either from before you've joined the show, or while you've been here?
Since I've been here, I've followed through a few storylines from beginning to end… one of them was the Liam and  gang story, which I found really satisfying, and I'm really glad that we're getting a good response from people. It seems to have come across how we wanted it.
How have you got to the position that you're in today?
I worked as a script editor for quite a long time, and a producer some of the time…and then I ended up teaching writers at the Writers Academy for about five years. That was really interesting and I learnt a huge amount. Then I went on to work on show, producing. I developed a very strong editorial sense from working with a lot of writers and script editing, and then also the production side of things - just from producing projects and being chucked in at the deep end and learning the mechanics of making TV.
 In that sense, I've got these two prongs to my experience. I do think you need both sides of it in this show, as you're dealing with the production side - where they want to get the episode completed under budget and on time, and the editorial side where they want it brilliant, no matter what it costs… and you've got to get those two sides to match up. I think that's the key to being a series producer.
Why did you want to work for EastEnders?
The obvious thing to work on, for me, was EastEnders, because so many people watch it! If you're going to work in television, you want people to watch your show! EastEnders is The One to work on from that point of view.
What advice would you give someone who was aiming to become a series producer?
Don't worry if you don't get the job you're aiming for straight away, there are a lot of other things you can do outside of television. I worked for theatre companies; I worked for publishing companies… anything that can develop your skills as an editor.
To get on the TV production ladder I think you should try and take anything that will help you get experience, runner jobs for example. You should also do things outside of the job, go to the theatre and work on your own projects. I think it's better to have a broad range of experience, even if it's not from paid work, but from things that you're passionate and interested about.