Executive Producer Lorraine Newman has announced her decision to leave EastEnders, it was confirmed today. Following Lorraine's decision, Dominic Treadwell-Collins will be replacing Lorraine in the role.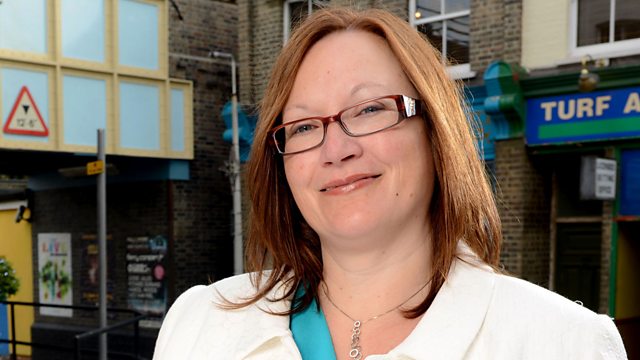 Lorraine Newman took over the role as Executive Producer in 2012 and during her 16 months at the helm, EastEnders has triumphed at the Baftas as well as being the most watched show on Christmas Day, with over 9 million viewers tuning in to find out Max's secret.
Most recently, Lorraine has secured many of the show's most notable characters to return this autumn, including Barbara Windsor, Michael French and Samantha Womack, as well as lining up several new and exciting characters which will see EastEnders kicking off this autumn with many explosive storylines, starting with Phil Mitchell fighting for his life after being involved in a huge car crash.
Lorraine joined EastEnders as a script secretary at the age of 19 and her passion and commitment to the show has been unrivalled. The first Executive Producer to occupy every editorial role on the show, Lorraine has played a huge part in creating some of the best loved moments in soap land.
Speaking of her decision to leave, Lorraine says: "I have loved every moment of my time at EastEnders but it is finally time to leave Walford. Over the past 23 years I have been involved in some of the best moments on British television, from 'Who Shot Phil?', to 'You Ain't My Mother!', to the 25th Live Anniversary episode and in the past year, the Olympic Torch episode has also been a proud highlight. Over the past year, I have also had the pleasure of planning and implementing the revival of many of the EastEnders clans who should always be at the heart of the show.
"I am confident that I am leaving the show in a stronger place and am sure that Dominic will continue to build upon this, taking the show to a new level. I am delighted to be joining BBC Drama Production as an Executive Producer and look forward to the new opportunities and projects this will bring."
Kate Harwood, Head of BBC Drama Production, England, added: "I want to thank Lorraine very deeply on behalf of the BBC for the work she's done on EastEnders over many years. From the beginning her love of the programme and her attention to detail has been part of the warp and weft of life in Walford and for seven years her work as Series Producer drove quality and provided great strength at the core of the show. Since early 2012 Lorraine took on the job of Executive Producer and led from the front the team she knows so well, both to Bafta glory and Christmas ratings success. EastEnders will miss Lorraine very much indeed but I am delighted she is joining the Series and Serials side of In-House Drama as an executive producer."
Dominic Treadwell-Collins returns to EastEnders after a three-year absence, in which time he has been working as Head of Development at production company Lovely Day.
Treadwell-Collins began working on the show in October 2005 as senior story editor, before becoming story producer the following year.
His first job in television was for drama series Midsomer Murders, and he previously worked as story producer on Family Affairs.
Many of EastEnders' best storylines and characters of the last decade were his imagination and design, and he played an integral part in conceiving and plotting the show's hugely successful 25th anniversary.
In his first year on the show, he created the characters Ronnie and Roxy Mitchell, and Shirley Carter. Storylines created under his tenure included Muslim character Syed Masood's struggle to reconcile his faith and sexuality, Whitney's abuse, Stacey and Max's affair, Ronnie's secret daughter, Stacey's bipolar disorder and Archie Mitchell's murder.
"You never really leave EastEnders - and for the past three years, the characters have all stubbornly stayed in my head," said Dominic. "I'm sad to be leaving Lovely Day, especially at such a fertile time for the company - but am excited about the challenge of taking the helm of Britain's greatest drama.
"It is an honour to follow someone as talented and experienced as Lorraine and I'm looking forward to building on her work and taking this iconic and essential show into 2014 and beyond, as we look to EastEnders' 30th anniversary in 2015."