Dating is never easy, especially if your name's Heather Trott and you live in Albert Square. Bad luck runs in her water (whatever happened to that rabbit's foot she had?! It's brought her about as much luck as it did the floppy-eared creature).
Just as love was blossoming online with Kevin68, he fled the world of cyber space. Perhaps his Amazing bond with Hev just got Too Funky and he had to go Outside for air? *Smiles apologetically*.
Whatever Kev's reasons, an email has just 'pinged' into Hev's inbox and I've taken a sneaky screengrab for you! You'll get to hear Hev's reaction to receiving this gem of an email in tonight's episode.
NB: The word web'date'. Ooooh.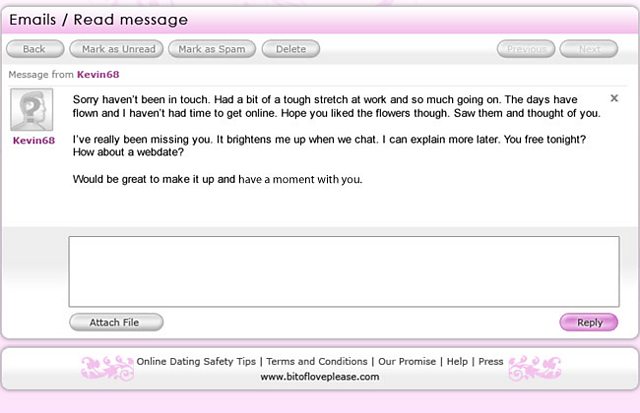 Kevin68 wants a 'moment with you'. Where have I heard that before? Oh. Yes. From Mr George Michael. Perhaps it's the singing sensation himself?! OK, so that would be something to sing about.
Should we have some Faith in this intriguing mystery man?
You can read previous Kevin68 emails here: