Ben Mitchell is Heather's man
Toss out the candles, stick on the lights and throw out the menus. Instead, grab your laptop, stay indoors and press 'power'. Welcome to the world of webdating!
Heather Trott bagged herself an online date tonight with 'Kevin68', unknown to her that the typed conversations were taking place a lot closer to home. Ben Mitchell, please stand up!
What are the top trumps of a webdate?
It doesn't matter if you're having a bad hair day.
Your purse/wallet stays untouched.
You can smell a bit whiffy.
You don't have to show your face.
And on that last point... it's really rather handy if you're not the person you make out you are!* Tut-tut.
At least we know that Kev's not Somebody to Love any more... thanks to Jay joining in with Mitchell Junior. The Bad Boys.
Check out one of Ben's many emails from tonight's 'webdate' as Kev: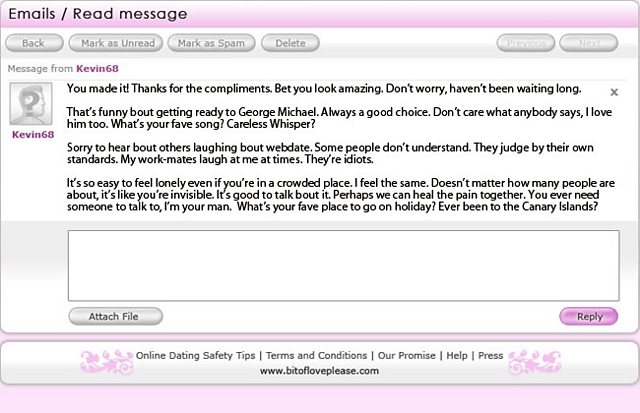 *Hand to Mouth* Not only has Jay rumbled Ben as the secret romantic, but the dater has also been inserting a few George Michael song titles in his emails. (Oi! That's my job). Apart from Careless Whisper, can you spot the others?
Finally, why has Ben been a cheeky Monkey? Does he feel sorry for poor Hev? Is he playing with her? Or, is there more to it than that?
You can read previous Kevin68 emails here:
Email alert: Hev gets to know Kev
Email alert: Heather's online dating
*please do not try this at home. Unless you're much better-looking than you make out, chase a rainbow to make it up to that person and buy them lots of lovely things.