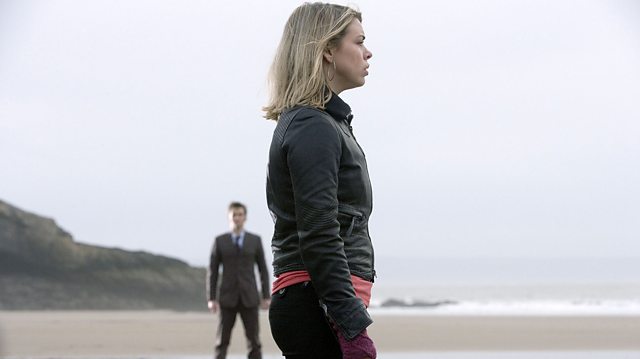 The sands of time run out for the Doctor and Rose.
This week's vote looked at scenes where companions departed and asked the simple question, which of the chosen four did you find the saddest?
In fourth place we had Martha's farewell from Last of the Time Lords. The scene shows her growing more confident, taking control of the situation and assuring the Doctor they'll meet again, so it's more about her growth than anything heart-breaking!
Third came Rose's goodbye in Journey's End. Although this is slightly sadder as she's parted from the Doctor, she does have the consolation of knowing she has the 'human' version of her favourite Time Lord to keep her company!
The Doctor having to leave Donna with her mother and Wilf in Journey's End just missed out on the top spot and materialised in second place. This was a truly heart-breaking scene… Everything Donna had enjoyed, endured and learnt during her travels in the TARDIS, removed from her memory. The Doctor was distraught and Wilf in pieces, but for the good of Donna, it had to be in every way, a journey's end…
Which means that the departure you voted the saddest of the four was Rose's farewell at the close of Doomsday. For sheer epic romance and heart-break it's difficult to beat this moment in all of fiction – never mind Doctor Who! Rose Tyler feeling so alone and powerless on a windswept beach and the Doctor burning up a star, just to say goodbye. Beautifully scripted and acted it remains one of the show's most memorable scenes ever.
Big thanks to everyone who took part and why not remind yourself of why that scene won the most votes by watching it again now!