The Doctor Who Proms, 2013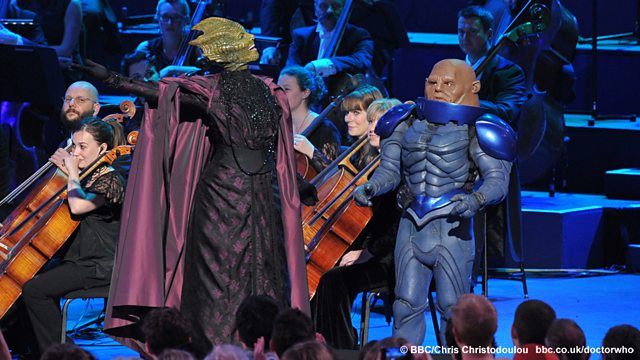 There was an epic sense of celebration at this weekend's Doctor Who Proms. The Royal Albert Hall's audience – many of them dressed in fezzes or bow ties – were there to hear the brilliant work of Murray Gold and music from throughout the show's history, provided by the London Philharmonic Choir and the BBC National Orchestra of Wales, conducted by Ben Foster.
Matt Smith and Jenna Coleman hosted the evening, along with a host of familiar faces. Madame Vastra and Strax (Neve McIntosh and Dan Starkey) took a break from Victorian England to appear and there was a fantastic reception for Peter Davison and Carole Ann Ford who played the Fifth Doctor and the Time Lord's granddaughter, Susan, in Doctor Who's early years.
Musical highlights included several Murray Gold favourites such as The Man Mad with a Box, I Am The Doctor and All the Strange, Strange Creatures. The two winning entries in the Doctor Who 'Create a Soundtrack' competition were given their first live performances and there was a 'Classic' Doctor Who Medley featuring scores taken from The Tomb of the Cybermen, The Sea Devils and many more stories from 1960s, 70s and 80s.
Perhaps most excitingly, Saturday's Doctor Who Prom featured the world premiere of Murray Gold's Song for Fifty which celebrates half a century of adventures in time and space. Written and orchestrated by Murray Gold, its lyrics ended with the fitting sentiment, 'Happy birthday. Doctor. You.'
You can read all of the song's lyrics and we've a brand new Doctor Who Proms Gallery featuring photos of friends and foes who invaded the Royal Albert hall this weekend!  Over on the BBC Proms website you can see four clips from Saturday's extravaganza and for a limited time only, BBC iPlayer users can listen to all of 2013's first Doctor Who Prom and a special radio programme, The Soundworld of Doctor Who, presented by Matthew Sweet.