Dinosaurs on a Spaceship with Mitchell and Webb!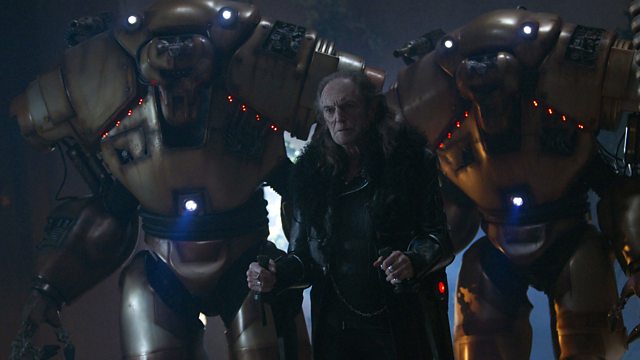 Mitchell and Webb provide the voices of the two robots above.
What's better than an episode with the Doctor, dinosaurs, a legendary queen, a charismatic adventurer, Amy, Rory, his dad and a huge spaceship hurtling towards Earth? Easy! An episode with all of that plus two massive robots voiced by the fantastic David Mitchell and Robert Webb!
Yes, the popular comedy duo 'Mitchell and Webb' make their Doctor Who debuts in tomorrow's adventure, providing the voices for two robots the Doctor finds on a spaceship that is zooming towards destruction. The Time Lord has come face-to-metal-face with a few mechanical monsters during his travels but having this pair voiced by two of the UK's most original and acclaimed entertainers means this encounter will be one to remember!
Executive Producer Caro Skinner commented, 'We were thrilled to have David Mitchell and Robert Webb on board for Dinosaurs on a Spaceship. It's a huge adventure, a real no-holds-barred belter of an episode and having them voice these two incredible-looking robots was just perfect. It makes them funny and chilling and… But I can't say too much now except we're all delighted with the episode!'
Dinosaurs on a Spaceship is on BBC One, tonight at 7.35pm.