Tom Baker at 80: The Tom Baker Story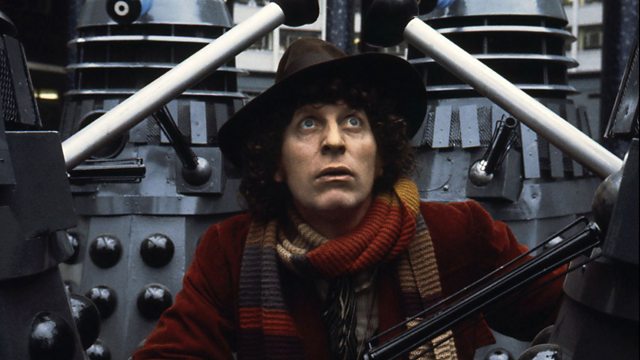 Thomas 'Tom' Stewart Baker was born in Liverpool on 20 January, 1934. He left school aged 15 to become a monk, throwing off his cowl in his early twenties and later completing his national service in the Royal Army Medical Corps, serving from 1955 until 1957. Tom's interest in acting burgeoned when he took part in the medical corps' amateur dramatics and following his demob he enrolled at drama school. After treading the boards in hits including Dial M for Murder and Hay Fever, Tom joined the National Theatre in 1968 and starred alongside such greats as Laurence Olivier in The Merchant of Venice and Derek Jacobi (later the Master in Utopia) in The Idiot.
He soon branched out into film and TV work and received a Golden Globe nomination for his role in the 1971 movie, Nicholas and Alexandra. Other early roles included an eccentric doctor(!) in the BBC's version of The Millionairess (see image below) and Koura in the big screen epic, The Golden Voyage of Sinbad.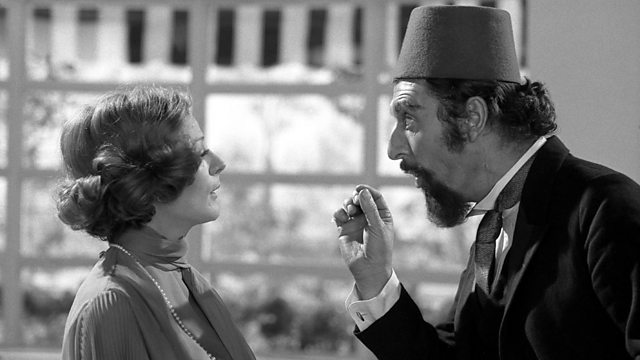 After Jon Pertwee announced he was leaving Doctor Who, the search for the Fourth Doctor began. The BBC's then Head of Serials, Bill Slater, who had directed Tom in The Millionairess, contacted Doctor Who's producer, Barry Letts, recommending him for the role of the Time Lord. When Letts saw The Golden Voyage of Sinbad he was convinced that he had found the perfect replacement for Jon Pertwee and so, on the evening of 8 June 1974, the Third Doctor, riddled with radiation, stumbled out of the TARDIS and began to regenerate… Moments later (image below) the world was introduced to Tom Baker as the Doctor!
Tom Baker's Doctor was brimming with bohemian swagger and during his first full episode as the Time Lord he donned a battered hat and a long coloured scarf – elements that would become part of Doctor Who's iconography. His Doctor could be at times funny, charming and insensitive. His farewell to long-time companion Leela was a master class in apparent apathy but his gentle words, 'I'll miss you too, savage…', spoken only after she could no longer hear him, indicated he had his hearts in the right place.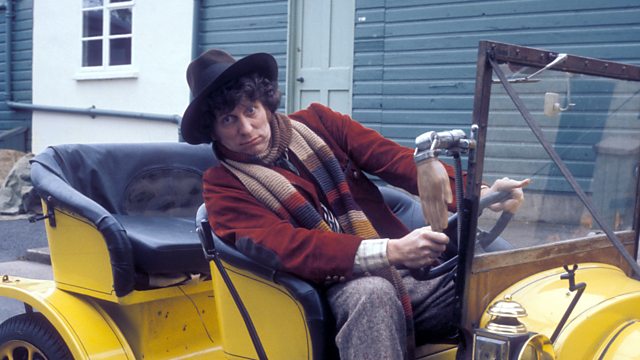 But for all his humour and heroism, there was another side to the Fourth Doctor, as Steven Moffat - Doctor Who's Executive Producer and lead writer - recently commented: 'I was terribly taken with him but slightly frightened of him…  We misremember Tom Baker's Doctor. He was very funny, very charming but you never knew what the hell was going on behind those terrifying eyes!'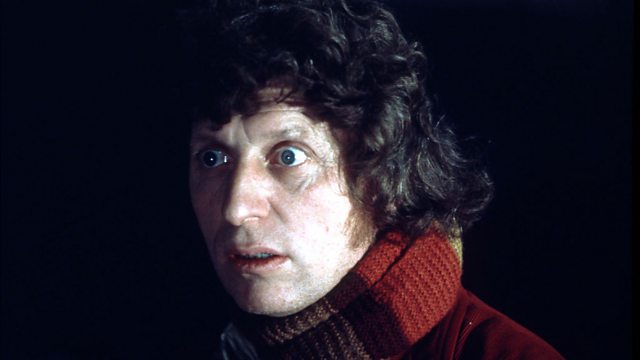 Tom Baker hung up his scarf after seven hugely successful seasons and on 21 March, 1981 the Fourth Doctor regenerated… Away from the world of Doctor Who Tom enjoyed a number of stage successes with roles varying from Long John Silver in Treasure Island, Frank in Educating Rita and Judge Brack in Hedda Gabler. His television work included regular stints on Randall & Hopkirk (Deceased), Medics and The Silver Chair adaptation from The Chronicles of Narnia (see image below). He also appeared in Douglas Adams' Hyperland, an episode of Blackadder II and from 2003-2006 he was the narrator voice of the sketch show Little Britain.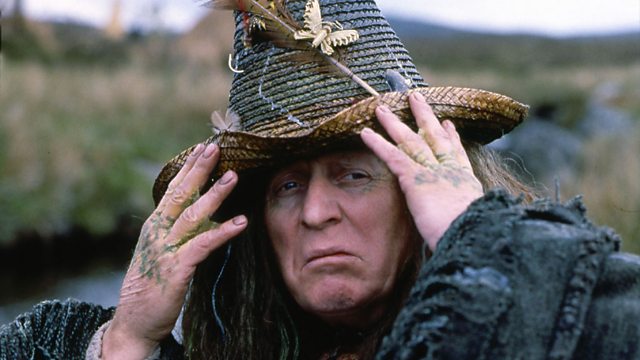 Tom had a cameo playing the Doctor in Dimensions in Time (1993) and went on to delight fans with appearances at conventions, always happy to recount amusing anecdotes based on his time in the TARDIS. In 2013 he returned to Doctor Who in The Day of the Doctor – you can watch the scene now! Tom's appearance came towards the end of the adventure and for many it proved to be one of the highlights of the 50th anniversary celebrations.
So… What lies ahead for one of the most popular Doctors ever? To quote Tom Baker's final words in The Day of the Doctor, 'Who knows, eh? Who knows?'