Doctor Who at the Proms: BBC One, Monday.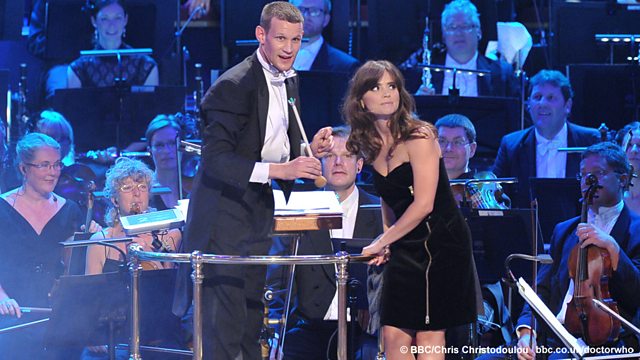 Photo taken 13 July, 2013 at the Royal Albert Hall.
Update! You can now watch an exclusive clip of Doctor Who at the Proms and can enjoy a brief glimpse behind the scenes.
If you weren't at the Royal Albert Hall for the Doctor Who Proms back in July, make a note in your diary… You can enjoy highlights of the concert's visual splendour as well as the magical music when Doctor Who at the Proms premieres on BBC One this Monday at 4pm.
The concert features the very best of Murray Gold's scores for recent adventures as well as music from the eras of the early Doctors. Matt Smith and Jenna Coleman make special appearances and it's great to see Madam Vastra and Strax back, hosting the Prom… In fact, any concert without a Sontaran and a Silurian will now seem relatively pedestrian!
And watch out for some very special surprise guests who help make this an unforgettable celebration of the music of Doctor Who.
Doctor Who at the Proms is on BBC One on Monday, 26 August at 4pm.
Check out the Doctor Who Proms gallery!