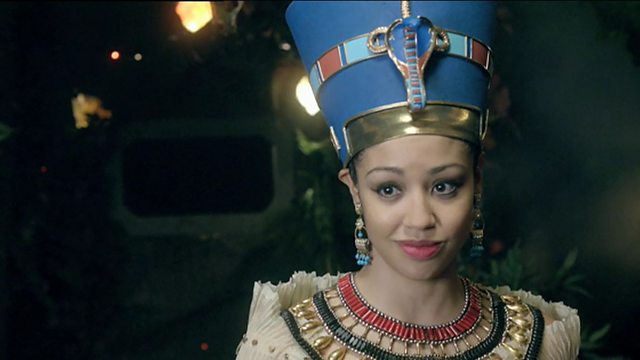 Queen Nefertiti appears in Dinosaurs on a Spaceship.
The Doctor has met some impressive figures from history, from Agatha Christie to Elizabeth I, but he's about to be joined by one of the feistiest females of them all: Queen Nefertiti.
Nefertiti, who was born around 1370 BC, remains best known for her beauty which endures, even today, in the form of her famous bust, now in Berlin's Neues Museum. The artifact is acclaimed across the world and is one of the most copied works of ancient Egypt, inspiring artists for generations. Indeed her name, Nefertiti, means, 'The beautiful one has arrived'.
Want to find out more about the real Nefertiti?
Aside from her great beauty, Nefertiti is famous for being one of her nation's most powerful queens. You can read about her and the role of other females in Ancient Egypt in From Warrior Women to Female Pharaohs.
You can discover more about the Ancient Egyptians at BBC History and for more visual splendour, why not visit the Egyptian Top Ten Gallery where you'll find information on Nefertiti by clicking on 'El-Amarna'.  And finally, you can see her famous bust and find out a little more about it at BBC News.