BAFTA Success for Doctor Who: The Gunpowder Plot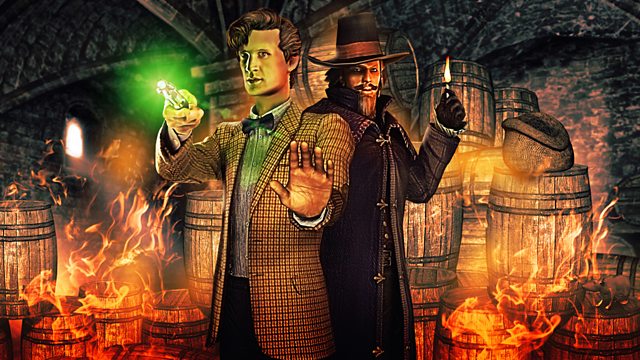 The BAFTA-winning Gunpowder Plot.
The Doctor Who Adventure Game - The Gunpowder Plot triumphed at last night's BAFTA Cymru Awards where it won in the Digital Creativity & Games category.
The award was collected by one of the game's Executive Producers, Anwen Aspden, who thanked the efforts of many people including Phil Ford who wrote the adventure, Voice Director Gary Russell, Steven Moffat and 'Matt Smith, for being a brilliant Doctor.'
The Gunpowder Plot was the fifth and most epic Adventure Game – a huge, powder keg of a story which starred Matt Smith (the Doctor), Karen Gillan (Amy), Arthur Darvill (Rory), Ralf Little (Guy Fawkes), Emilia Fox (Winters), Dan Starkey (Kaarsh) and Phil Daniels (Geoffrey Plum). It marked the return of the Sontarans and Rutans and even featured the Silence, alongside real-life characters and situations from London, 1605.
All five Adventure Games are available to download now and so if you fancy a journey to The City of the Daleks, an encounter with the Cybermen, Vashta Nerada or a desperate battle in the TARDIS, take a look at them now. Each game is accompanied by videos featuring the cast and crew and a number of fantastic galleries.
So if you can't wait for the Doctor to return at Christmas, you can still travel in the TARDIS and fight his most famous foes - all thanks to the Adventure Games!
The 2012 BAFTA Cymru Award for Digital Creativity & Games was won by the Doctor Who Adventure Game - The Gunpowder Plot (a co-production with BBC Wales Interactive & Learning, also executive produced by Charles Cecil from Revolution Software, one of video gaming's most revered creators. And developed by Sumo Digital, one of the UK's leading game developers). The award ceremony was held in the Wales Millennium Centre in Cardiff Bay on 30th September, 2012.