The Magnificent Seven Things about A Town Called Mercy – Part One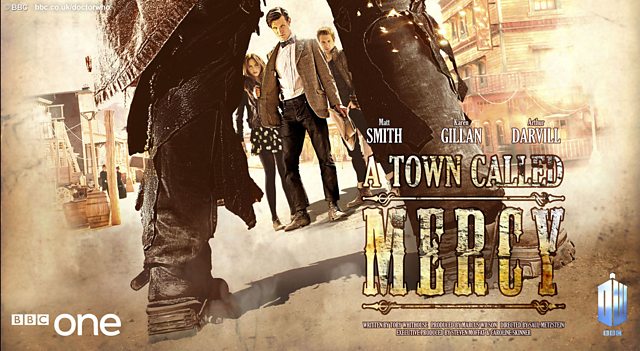 The Magnificent Seven Things about A Town Called Mercy – Part One
The Doctor mozies into A Town called Mercy on Saturday at 7.35pm. Matt Smith has called it a 'full-blooded Western' and in homage to the genre we present the magnificent seven things about this adventure…
One: It's a classic story.
All the best Westerns from Destry Rides Again to High Noon involve heroes facing almost impossible odds to protect innocent townsfolk and almost as importantly, a principle they believe in. The stories involve courage, sacrifice and a moment of reckoning… That moment the audience feels must come and the characters in the drama know can't be avoided, surging towards them like a silver bullet. Steven Moffat (Head writer and Executive Producer) said, 'Like all the best Westerns, this is a tale of one man standing against impossible odds and his own personal demons.' Believe us, this is a story you will never forget.
Two: Look and Location.
The Doctor Who team travelled to Spain for this episode and shot in Almeria, in a vast town/movie set where classic Westerns including The Good, The Bad And The Ugly were filmed. The sense of place, sense of heat and at times desolation really add to episode's appeal. It was directed by Saul Metzstein (Dinosaurs on a Spaceship, Pond Life) who gives enough nods to the Western genre to make it feel like the adventure belongs there, but at the same time it's packed with classic Doctor Who motifs. Somehow the two worlds don't collide; they meet in the saloon bar, order cups of tea and get along splendidly. Watch out for a lovely scene with the Doctor hammering and knocking and you'll see what we mean.
Three: It's got the Doctor, Amy and Rory in it.
That might sound like an obvious one but after Mercy there's only The Power of Three before the Ponds' swansong. Karen Gillan has revealed that in A Town Called Mercy we see why the Doctor needs companions, but quite aside from that plot-point there are some terrific moments that we enjoy because we know this trio of travellers so well. The dynamics between the three leads is by turns funny, dramatic and when it comes to choosing sides, unexpected. And like all Doctor Who at its best, there's a wonderful warmth arising from a central friendship that reminds us how much we're going to miss the Leadworth Two after The Angels Take Manhattan…
Four: It's a rootin', tootin' all-guns-blazing adventure!
It's got an alien cyborg with a right arm which is actually a gun that looks powerful enough to blow up a bungalow from twenty paces. He shouts things like 'Face me!' and as mentioned above, we know that events must move towards a reckoning… This one isn't going to be settled with a quiet word and a handshake. Gunfights, explosions, tension, brawls and big decisions that will change lives forever are all part of this powder keg of a story!
Read part two of this preview.