The Magnificent Seven Things about A Town Called Mercy – Part Two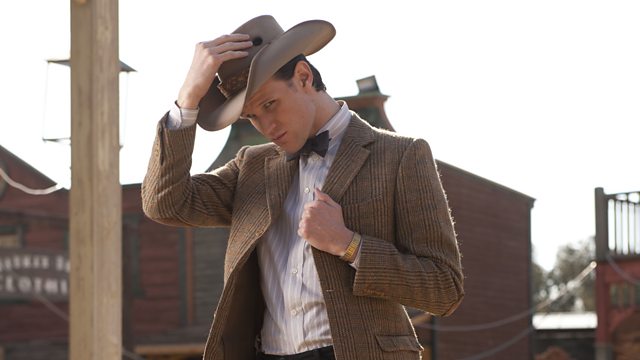 The Magnificent Seven...Part Two
A Town Called Mercy is on BBC One tomorrow (Saturday) at 7.35pm. Matt Smith has called it a 'full-blooded Western' and in homage to the genre we're presenting the magnificent seven things about the episode. In the second and final part of this preview we look at three more elements of the adventure. Yee-hah!
Five: The Gunslinger
Doctor Who has introduced us to many scary monsters but this powerful, predatory cyborg is one of the best.  He looks awesome and somehow even manages to sound unstoppable. The episode was written by Toby Whithouse (School Reunion, The Vampires of Venice, The God Complex) so you can bet this adversary will bring along a few surprises… But one thing is certain. You do not want to knock over his sarsaparilla in the Mercy saloon…
Six: The Guest Stars
One of the joys of Doctor Who is its variety, whisking us from a Dalek Asylum to a spaceship full of dinosaurs and now dropping us off in the Old West. But the variety doesn't end there. What other show has a fugitive alien, a marshal and cyborg killer in a cowboy hat as three of its main characters? And when you have Adrian Scarborough playing Kahler-Jex you know you're in for something special and Ben Browder is brilliant as Isaac - just perfect -  reminding  us why he won so many awards on Farscape. Andrew Brooke makes the Gunslinger an immense and real character and the townsfolk are all spot on.
Seven: The Music
It's hard to imagine The Magnificent Seven without that rousing theme tune or The Good, The Bad and The Ugly stripped of Ennio Morricone's famous score. Great Westerns don't just have a look they have a sound and Doctor Who's award-winning composer Murray Gold has come riding into town, all crotchets blazing with one of his most assured soundtracks.  Pure Western from the ghostly whistling to the tension-tightening percussion, tomorrow's episode is couched in stirring, soaring music that's evocative enough to make us fall a little bit in love with this town of Mercy.
You can read part one of this preview or watch clips and trails for the episode. A Town Called Mercy is on BBC One tomorrow night at 7.35pm.