The Daleks Take Over Twitter!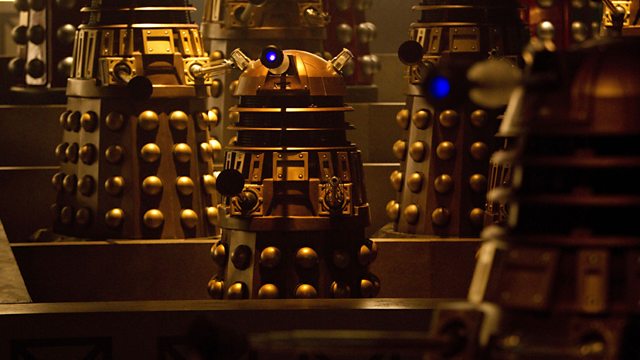 War of the Words?
We're disturbed to confirm reports that at approximately 13:52 this afternoon, the Daleks invaded the twittersphere.
For 25 terrifying minutes, the monsters from Skaro were the masters of the official Doctor Who twitter feed, demanding retweets and confirming that they could see us… You can get your own back and see them tomorrow at 7.20pm when they return in Asylum of the Daleks…
And in case you missed it, here's a transcript of the strange Dalek interference that blighted the world earlier today…
13:52: SAVE.
13:54: SAVE THE DALEKS!
13:56: THE DALEKS ARE THE MASTERS OF TWITTER. SAVE  THE DALEKS! #SAVETHEDALEKS
#THEDALEKSARETHEMASTERSOFTWITTER.
13:58: DALEK TECHNOLOGY HAS BEEN LAUNCHED INTO THE INTERNET. IMPLEMENTING VISUAL CONTACT WITH TWITTERVERSE... VISUAL CONTACT ESTABLISHED… NOW!
13:59: WE CAN SEE YOU.
14:00: YOU ARE ACQUIRED!
14:01: THE DALEKS CAN SEE YOU. YOU WILL HIT RETWEET! OBEY! OBEY THE DALEKS! YOU WILL HIT RETWEET!
14:07: THE DALEKS CAN STILL SEE YOU. YOU HAVE BEEN IDENTIFIED!
14:08: RECORDS INDICATE YOU ARE AN ASSOCIATE OF THE DOCTOR. YOU WILL SET YOUR TIME-SPACE VISUALISERS FOR TO-MORROW, 19.20 HOURS B-B-C-ONE! OBEY!
14:10: THIS IS ONLY THE BEGINNING. WHEN THE TIME IS RIGHT WE WILL EMERGE AND TAKE OUR RIGHTFUL PLACE AS THE SUPREME POWER OF THE TWITTERVERSE!
14:13: THE DALEKS ARE THE MASTER RACE! THE DALEKS WILL RETURN TO SKARO!
14:15: THE DALEKS WILL RETURN ON SATURDAY!
14:16: The Daleks will return on Saturday at 7.20pm so it's bound to be a close shave for the
Doctor, Amy and Rory! bbc.in/M1R0pi
14:17: Apologies for problems some of you may have just experienced. Unconfirmed reports indicate interference coming from Alaska of all places…