The Ultimate Doctor Who Monster or Villain: Nomination #2: The Daleks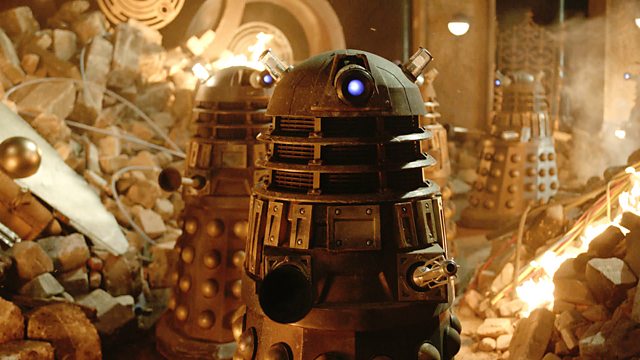 On Friday we announced that we want your vote in order to find out once and for all: Who is the ultimate Doctor Who villain? And yesterday, on the anniversary of their debut appearance, we announced the first of the ten contenders… the Cybermen!
The second contenders to be announced will come as no surprise… They were the first alien adversaries faced by the Doctor and just like the show itself, they celebrate their half century later this year. They are the epitome of evil and everything the Time Lord despises: The Daleks!
The Daleks first appeared in December, 1963 and have been menacing the Doctor and delighting audiences ever since. They are as distinctive as they are deadly, an intrinsic part of Doctor Who and on a broader level, an enduring icon of British culture.
You can find out more about the Daleks, watch clips from their first adventure or see lead writer and executive producer Steven Moffat discussing their debut. We've also got clips, photos and more from classic stories including Day of the Daleks, Genesis of the Daleks and Remembrance of the Daleks. If you want to check out more recent episodes we've got some great content around their clashes with the Eleventh Doctor… Just revisit Victory of the Daleks or Asylum of the Daleks.
Tomorrow we'll be bringing you the third monster or villain to be nominated and remember to visit the site over the next few days so you can discover the complete top ten contenders… and then vote for the one you think is Doctor Who's ultimate baddie! The winner – as voted for by you - will unveiled in the 'Doctor Who: Monsters and Villains Weekend' on BBC Three in November, as part of the celebrations to mark 50 years of Doctor Who!