The Doctor, the Captain and the Master's Wife...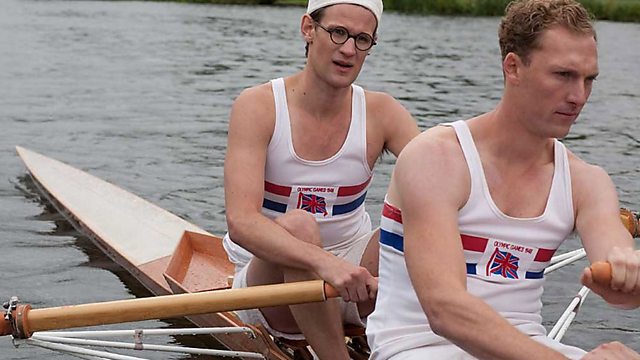 Bert and Dickie: Paradise Rowers?
If you're missing Matt Smith and can't wait for the new series of Doctor Who, then tune into BBC ONE on Wednesday, 25th July at 8.30pm for Bert and Dickie.
Just before Matt carried the Olympic Torch back in May, he spoke to us about this one-off story based on true events. 'It's a drama about two rowers in the 1940s who are trying to get Olympic Gold. It's about their struggle to get along as they try to forge a team and work towards that medal.'
The two rowers in question are Bert Bushnell (Matt Smith) and Richard 'Dickie' Burnell (Sam Hoare), a mismatched pair brought together at the last moment to compete for the gold medal in the double scull (a rowing event) at the 1948 London Olympics. Matt was effusive about the central characters at the heart of the story. 'They're from different classes and have different points of view in life. It's really about their relationship and trying to overcome those differences and difficulties in order to create a winning team.' Someone in the room comments that it's a great drama with tremendous warmth. Matt smiles. 'I hope so.'
It's got a stellar cast and Doctor Who fans will recognise several of Matt's co-stars including Geoffrey Palmer (the Captain in Voyage of the Damned), Alexandra Moen (Lucy Saxon) and Clive Merrison who appeared in The Tomb of the Cybermen and Paradise Towers.
Full of stirring scenes, beautifully realised period detail and a fantastic performance from Matt Smith, this is one Olympics event you won't need a ticket to enjoy!
For clips and information about the drama, visit the BBC's Bert and Dickie site.