The Angels Take Manhattan: Videos and Other Extra Content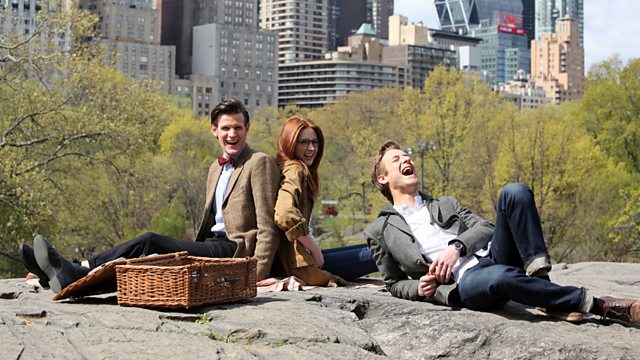 Manhattan and so much more.
If you enjoyed The Angels Take Manhattan you'll love The Last Days of the Ponds, a 12-minute programme that takes an emotional look at Amy and Rory's time on Doctor Who. Matt Smith, Karen Gillan and Arthur Darvill share their memories of working together and reveal how it felt, shooting the poignant farewell scenes and moving on after so many happy times. You can watch it now!
You can also see highlights of a recent panel featuring Executive Producer and head writer Steven Moffat, Executive Producer Caro Skinner, director Nick Hurran and Production Designer Michael Pickwoad. The four of them discuss everything from shooting The Angels in Manhattan to what's in store for the Doctor… Steven Moffat even reveals which characters will be returning soon! That's all in the new video.
We've also got some exclusive galleries including a collection of production artwork and behind-the-scenes shots, the latest Game of Rassilon and a new page dedicated to the mysterious Grayle. You can find out more about the Angels and River and why not take a trip back in time and relive moments from the Doctor's first adventure with Amy and Rory – The Eleventh Hour, or visit our new gallery showing some of the Ponds' most memorable moments.
But if you're already looking ahead to the Doctor's next adventure, you can take another look at that intriguing Next Time trail…
We'll be bringing you lots more extra content next week including new videos and exclusive images, so stay tuned!