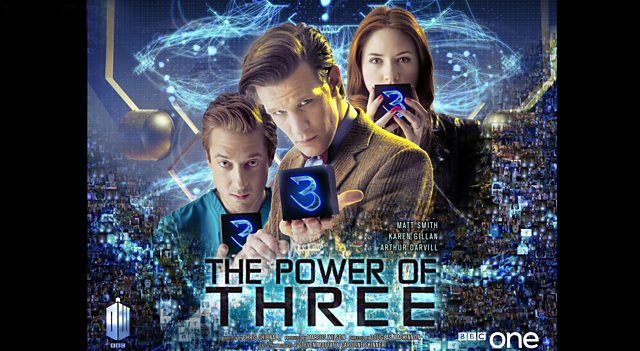 Ahoy there! It started with the MSC Napoli...
After the brilliant Pond Life and run of three blockbuster episodes that kicked off the new series, we now look ahead to Amy and Rory's farewell story, and before that, their penultimate adventure with the Doctor: The Power of Three.
We're back on Earth for an episode that promises to be full of intrigue and action. The Doctor and the Ponds must puzzle over an unlikely invasion of Earth, as millions of sinister black cubes arrive overnight… But what are they, what's inside them and most importantly, who sent them? With the international community at a loss, it's left to the Doctor to unearth who is behind the mystery.
We caught up with Chris Chibnall, who wrote The Power of Three, and asked him about his latest story. 'A few years ago,' he explained, 'near where I live, the MSC Napoli got stuck in Lyme Bay. A lot of its contents got washed up onto shore and people just started taking the contents. I wanted to do a story based on humanity's ability to go Oh, look at that… I'll take that!'
The Power of the Three guest stars Steven Berkoff (Octopussy, The Girl With the Dragon Tattoo) playing – in Karen Gillan's words - 'a rather sinister character' plus Jemma Redgrave (Bramwell, Mansfield Park) as Kate Stewart. And we have the return of UNIT (more about that tomorrow!) and the fantastic Mark Williams as Rory's dad. We asked Chris if any of Brian was based on himself, and how he developed the character.
'For me, being a dad, I did take a bit of an element of that into creating Brian; he is everything I worry I am going to become! But ultimately he is lovely with a big heart. You kind of know that Rory's dad has got to be a good man. He starts off a bit fearful [in Dinosaurs on a Spaceship] but ends up being surprisingly well-equipped at dealing with the adventure. And I was really keen to introduce the audience to some of Rory's family, as we only had a few episodes left with him... That is the joy of Doctor Who, bringing characters who are happy in their lives and plonking them in crazy situations!'
And finally, having written 42 and Cold Blood/The Hungry Earth as well as this year's Pond Life, Dinosaurs on a Spaceship and The Power of Three, which of them ranks as his favourite episode? 'I can't answer that!' he replies.  'They're like children!' A slight pause and a half-smile. 'Ask me in a year or two…' he tells us.
You can watch trails and an introduction to The Power of Three and tomorrow we'll be bringing you a feature about the return of UNIT who come storming back onto our screens in Saturday's adventure!
The Power of Three is on BBC One on Saturday at 7.30pm.