Happy Anniversary River Song!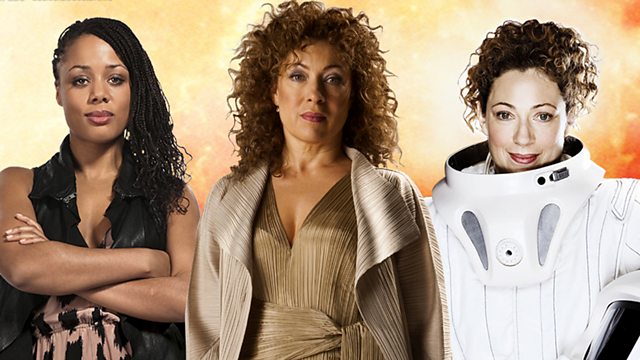 River Song made her first appearance five years ago today, leading an expedition to The Library where she found the Vashta Nerada, Donna Noble… and the Doctor. Although he didn't have a clue who this charismatic archaeologist was, she certainly knew him, recalling days he had yet to live with an affection that indicated they would become more than just traveling companions.
In the half decade since that first encounter River has appeared in over a dozen episodes and we've seen glimpses of her whole incredible life. The troubled childhood where she became one of Kovarian's pawns; the early Leadworth days with her mum and dad – Amy and Rory; her battles side-by-side with the Eleventh Doctor as together they fought Weeping Angels, the Silence and the Great Intelligence; the romance, the 'wedding' and even what the Doctor described as their first date… a jaunt to Berlin with a plan to kill Hitler!
River Song was the brainchild of Steven Moffat who described her as 'funny, flirtatious [and] mad'. River's crazier qualities have ensured she's been a brilliant and unpredictable factor in the Doctor's adventures but she also has a softer side that must have touched the Time Lord's hearts.  "When one's in love with an ageless god who insists on the face of a twelve-year-old,' she once confided, "one does one's best to hide the damage," later telling Amy, "Never ever let him see you age. He doesn't like endings."
But today we salute River Song, also known as Melody Pond, also known as Mrs Robinson and frequently known to spread complete and rather wonderful chaos!
We've assembled some of our favourite River quotes, unveiled a new gallery devoted to her, created some spot-the-difference puzzles and even created a new quiz so you can find out how much you know about the daring Doctor Song!
And we want to know – which was your favourite River Song adventure? To make your opinion count, go to the homepage and in the section to the lower right-hand side, cast your vote. And if you need reminding about the life and times of River Song, you'll find information, clips and more about each of her adventures. We've listed all her episodes below… Click on any of them to step back in time with River!
Silence in the Library / Forest of the Dead
The Time of Angels / Flesh and Stone
The Pandorica Opens / The Big Bang
The Impossible Astronaut / Day of the Moon