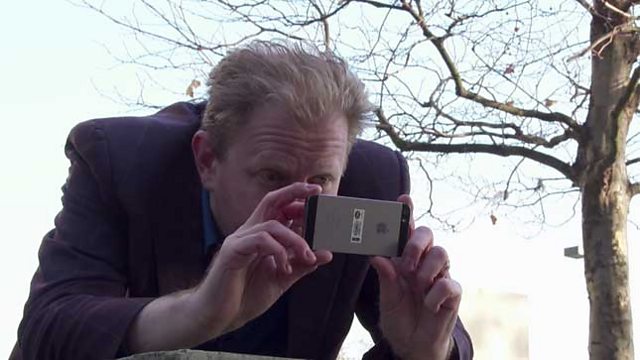 Licence fee money has been 'blown', cash has been 'splashed' and critics have 'blasted' the expense.
What has caused this media maelstrom? This wailing and gnashing of teeth?
It's the fact the BBC has invested in bringing its reporting into the digital age by equipping many of its journalists with iPhones and has trained them how to use these multi-faceted devices to their fullest extent... all for the benefit of our audience, the licence fee payer.
But surely, you ask, couldn't any child use a smartphone without the need for training? Do BBC staff need hand-holding for the most basic of tasks?
Of course not. And it's disappointing some have leapt too easily to that conclusion… even when provided with the facts of what's really happening.
The truth is we're in the midst of a revolution in newsgathering. One in which a single reporter, almost anywhere in the world, can become (with the right training) a mobile outside broadcast unit. Bringing audiences, sometimes in real-time, coverage of some of the most important stories of our times at a fraction of the cost of old technology.
No-one needs training on how to use a phone, text, or even to use many apps that are designed to be intuitive and which most of us now deploy without a moment's thought.
But to know how to capture audio, video and stills of sufficient quality to share with millions; to edit that material; to learn how to deploy specially designed apps to allow this rich content to be filed from remote locations; to discover how to integrate locally-gathered material with other elements stored on computers thousands of miles away does take training.
Of course it's fair and appropriate to ask whether the sizeable sums quoted are providing value for money? Sadly that's the part of the story some of our critics don't want to hear. This form of newsgathering is arguably the cheapest most efficient means currently available.
It's something the world's media organisations are all investing in, supported by training. It's something that even some of the newspapers which criticised us are doing in order to gather and produce content for their own digital platforms.
At a recent international conference Glen Mulcahy from Irish broadcaster RTE compared the cost of a traditional ENG broadcast kit with the cost of a smartphone and all the field-reporting accoutrements required to go-live in broadcast quality: about £50,000 versus £1,200. And that's not taking into account any costs for outside broadcast trucks and technical operators to enable live coverage in remote locations.
So, rather than be shame-faced about the investment we've made in this training, it's something we're hugely proud of. It's called progress.
Smartphone journalism: Photographs