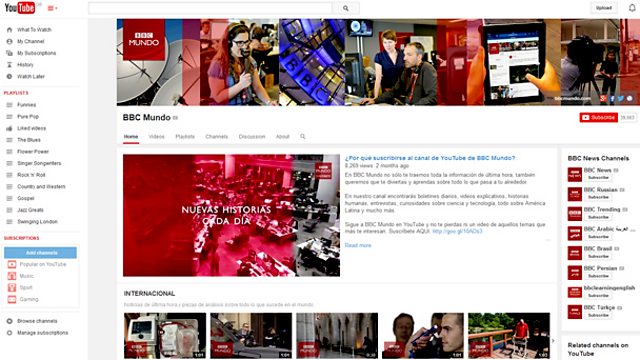 BBC Mundo's YouTube channel
Imagine there was a platform that could reach a billion people each month and was available on 61 localised platforms in 61 languages.
Imagine those people were in the key 18 to 34 audience demographic, and most of them in developing areas. Imagine they were watching 6 billion hours each month, and that 100 hours of content was being uploaded every minute.
If you haven't yet guessed, this is real and being achieved, and is of course YouTube. That key 18 to 34 demographic is spending more time on YouTube than on any other satellite or cable channel.
While YouTube isn't necessarily thought of as the place to watch news, 7,000 hours of news content is uploaded daily, and three million hours of news content is watched.
Coupled with the demographic and digital growth projections across the Middle East, Spanish-speaking world and elsewhere, YouTube was chosen as one of the priorities for BBC World Service Group's digital and technology team this year.
Of the 28 languages services across the BBC, 21 have YouTube channels.
While the social media priorities for BBC news delivery, communication and interaction with our audiences have focused on Facebook, Twitter and other networks, our YouTube efforts essentially replicated video appearing on BBC websites.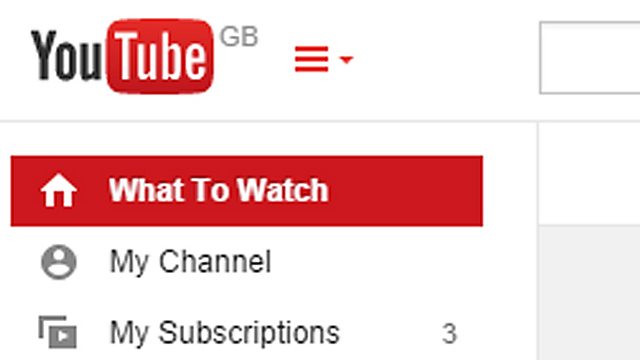 YouTube
For anyone who follows a channel or presence on YouTube, that 'copy-and-paste' style of video isn't ideal for a compelling video or audience experience.
So we hired four editors just to look after YouTube across various language services, and optimised the channels with introductory trailers, creating playlists so the channels look like YouTube channels and not copycats of website video. So what have we learned and, also, what have we achieved?
BBC Persian has seen a fourfold increase in the amount its viewers are watching, even though YouTube is blocked in Iran. 'Watch time' is the most important metric we track, because the amount of minutes watched contributes to a video's discoverability.
That's important because, after Google, YouTube is the world's second-largest search engine. But how are some of our smaller services faring? While in August, YouTube saw a 50% increase in watch time globally, some of our Asian services far outstripped that. BBC Indonesia saw an increase of more than 1,000% between July and September.
Another problem our editors have sought to tackle is balancing the proportion of males to females watching online video. According to UN Women, in developing countries women are 23% less likely to be online than men. This is consistent with what we're seeing on our channels. BBC Urdu decided to tackle this by taking Sairbeen, its popular women's programme, and uploading a modified version of daily episodes on to its YouTube channel.
While it did not immediately even out the number of men and women watching, it did help identity what BBC Urdu's YouTube audience liked. The daily Sairbeen episodes, which began to be uploaded in August, have already claimed seven of the top 10 most-watched videos for the channel this year. This might also explain why the channel experienced a near 400% increase in subscribers - another of the key metrics we use to measure success.
This leads to the question I'm asked most: 'what is the best kind of YouTube video?'
The assumption is that short, snappy videos are the key to YouTube success. Across our languages services, however, we see that this is very much not the case.
While BBC Mundo's top videos are all less than three minutes long, all of the Persian service's top videos are more than 20 minutes. The conclusion so far is there is no universal template when it comes to video format.
Will the work be over once each channel has found its winning formula - in terms of optimal video length, an even gender balance and knowledge of what type of content works best for their audience?
I don't think so. Digital media is not static. It's full of innovations, trials and tests, which is also the objective of our channels.
Can we use the YouTube space to experiment with video and also draw upon content created across the BBC to turn into dynamic video? While channels like Vietnamese see particular success with Google hangouts, Russian, Mundo and Turkish have all been re-versioning BBC shorts - 15-second videos created for Instagram - into their own language and publishing on to YouTube. The Mundo and Russian services are also experimenting with Touchcast - trialled by BBC Trending in the run up to the Turkish presidential elections earlier this year.
By keeping video relevant, engaging, and also speaking to the BBC principles of impartiality and keeping audiences at the heart of everything we do, YouTube can be more than just a video-viewing platform. It's a way to reach audiences in a relevant, engaging way with all the key components of what effective social media should be.

Pete Walter wrote about what makes a video succeed on YouTube.
The College of Journalism's YouTube channel
The College of Journalism has 15 language websites in addition to English.