It is a bit like playing the piano. On an average day you might manage Chopsticks but you never get close to a symphony. When journalists search Google, even the Advanced version, they do not automatically think tactics - they are usually too busy for nerdy tricks. But all social networks, for instance, have advanced search facilities and they can be extremely useful newsgathering tools.
Take Twitter. You search for, say, 'Beyonce tickets in Luton' and you probably get nothing, so you give up. But click on 'advanced search' (in the drop down menu from the black cog-wheel symbol, which only appears top right once you've done a preliminary Twitter search) and you get at least 10 fields of extra search criteria to fill in.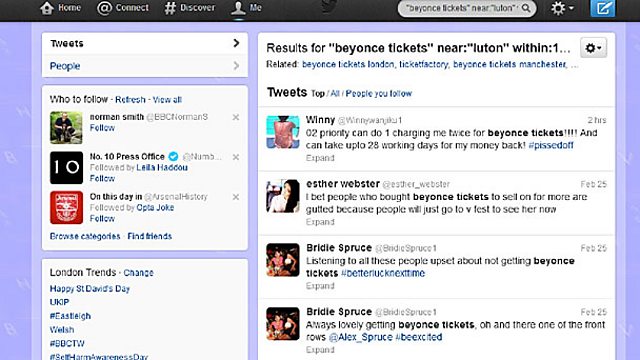 Enter 'Beyonce tickets' in the 'exact phrase' box and 'Luton' in 'near this place' and you get a whole string of matches. Other options allow you to search a narrower radius - say, within five miles. Or a wider area like 'within 30 miles'. If you're a BBC Three Counties Radio reporter searching for the lucky ticket winner on your patch, that could come in handy.
Remember, if you give up at the first hurdle you miss out on a lot of good stuff - you just have to keep digging. A lot of people eventually teach themselves this stuff, but when you start to discover new tricks you begin to wonder what else you don't know about.
LinkedIn is another tool with hidden depths. Helpfully, the 'advanced' people search button is on the homepage, top right.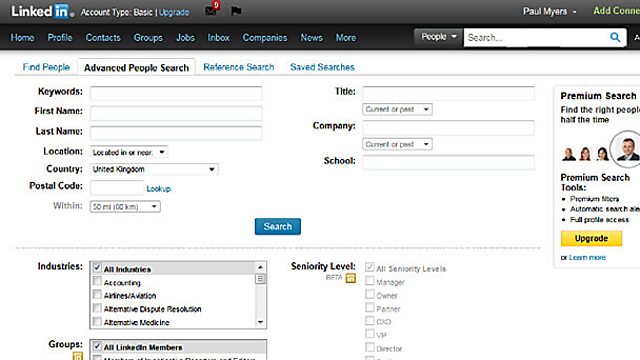 Linkedin Advanced search
Apart from normal keyword searches, you can trawl different 'industries' or 'groups' (eg, only farmers who are divorced) and 'connections' who are friends; or people two or three steps removed from you (via mutual connections on LinkedIn) for a wider pool.
For deeper search criteria, such as seniority within a company, how big the employer is, length of service etc (you might only want to find people who have worked all their lives for high street grocers, not everyone who works at Asda), you'll need to pay a LinkedIn subscription.
But there are ways around some of the site's apparent dead ends. Here's an interesting one. Say you wanted to find people in the UK who'd graduated from the unaccredited Almeda University, bestower of online "life experience degrees", at graduate, masters and doctorate level.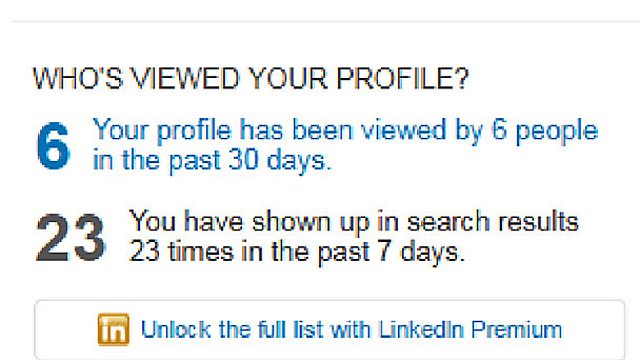 Entering 'Almeda University' into the 'school' field of the advanced search brings up more than 20 results, most of which are not fully identified - simply 'first name + surname initial' or just 'LinkedIn member'. To see full profiles, you'd need to upgrade your LinkedIn account. And in any case, if you're a journalist investigating Almeda University you might not want 'graduates' to know you are checking them out on LinkedIn. So log out - and search on Google instead.
Enter "Almeda University" then add "site:uk.linkedin.com" and you'll get a list of graduates' full names. Google search again, putting the individual's full name after "Almeda University" and before "site:uk.linkedin.com", and Bingo! You have your subject's full profile.
In his blog earlier this month, Jonathan Stoneman recommended Google Guide as a source of tips about refining your search, including by dropping in special characters or 'operators'. A few Google syntax tricks are particularly useful in improving functionality.
Say you're looking for journalists who work in the wider Luton area. By putting "OR" (always in caps) between places in that area you can search for each and/or all of your entries eg. "luton OR dunstable OR welwyn ~ journalist". Inserting the squiggle sign or 'tilde' before "journalist" ensures that you'll get a wider trawl for writers, reporters, editors etc - so synonyms of journalist too.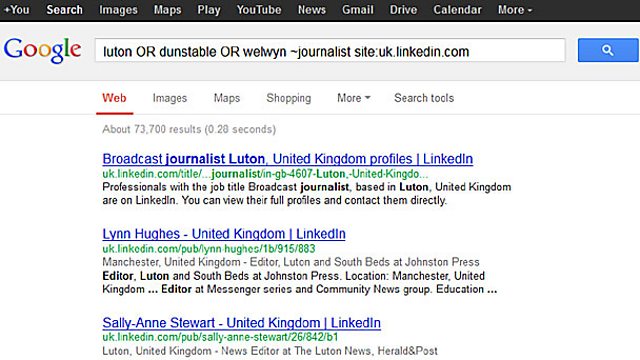 Use the "site" tactic again to specify your search to Facebook, Twitter or LinkedIn, or a combination, so that you search all three social networks at once ("luton OR dunstable OR welwyn ~ journalist" site:uk.linkedin.com OR site:twitter.com OR site:facebook.com).
Another operator worth getting acquainted with is "intitle". Say you want to find Facebook groups about Prozac or Valium based in the Manchester area. If you type into Google "Manchester anti-depressants site:facebook.com", you may get groups of people taking Prozac but you'll also get groups of pharmacists. You might also turn up the likes of 'Dave Manchester'.