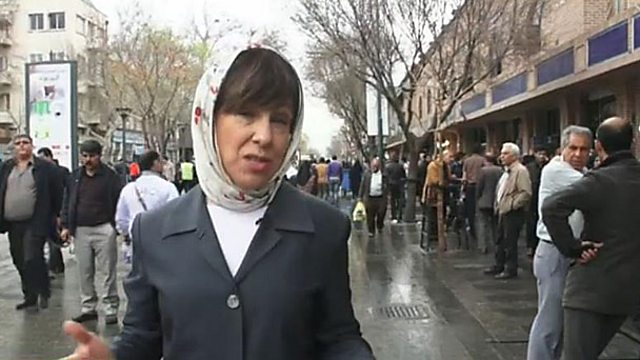 When BBC News recently held its first
Reddit AMA
(ask me anything) we invited our chief international correspondent
Lyse Doucet
to answer the questions. Lyse had just returned from a trip to Tehran - the first time she had been back since a visa ban imposed following the 2009 elections.
The wide-ranging AMA thread touched on impartiality, 'BBC bias', the place of women in Iranian society, Iran's view of Israel, Lyse's distinctive Canadian accent, her scariest moments (being pursued by helicopter gunships in Afghanistan was certainly one), bad Farsi jokes and how to get into journalism.
So here's a quick rundown of how we made the AMA happen, how it went on the day and what we learned:
The set-up
1. We made contact with Reddit director of communications Victoria Taylor (email address) in the US the week before, to ensure that our AMA was scheduled in its Google calendar. The listing is important to ensure there is no clash with other prospective AMAs and to publicise the event to 'redditors' in advance. The calendar just lists the name and title of the person doing the AMA, the time of the AMA and links to a Wikipedia listing on the person.
2. As no other publicity can be generated by Reddit in advance, we needed to create more of a social media buzz in the run up. Lyse tweeted about it a few times and these were retweeted to @BBCWorld. She also produced a new editor's blog and we posted about the event to our BBC World Facebook page.
3. A scheduled help call with a Reddit representative one hour before the AMA was also useful. They helped create a Reddit account for Lyse and talked us through the final set-up, introducing the AMA to redditors with title, text and proof of ID (Lyse's blog and Twitter account). As the event went live, Lyse tweeted about it with a picture of herself, and Reddit retweeted about it. To finish the set up, Lyse tweeted a URL to the live event from the Reddit AMA thread and announced that she was ready to answer questions at the top of the thread. We tweeted again to @BBCWorld to announce that the event was live.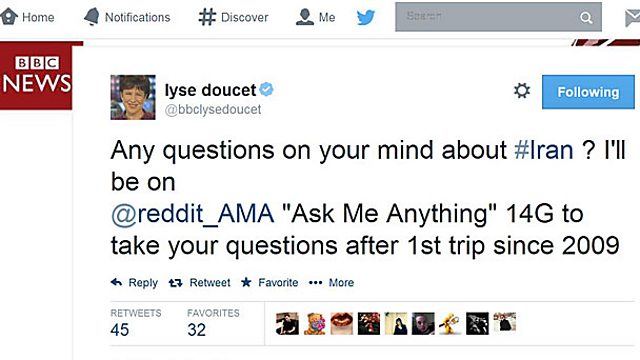 The AMA
1. Reddit advises going live ahead of the scheduled time to allow a range of questions to emerge before the AMA host starts their answers. Within minutes Lyse had some good questions to get stuck into.
2. Questions are arranged under different categories (eg. 'hot', 'new', 'best' or 'controversial'). The advice was to focus on the 'hot' questions first and then tab between the others - ensuring that Lyse answered a mixture of popular questions (with high point scores) as well as follow-ups to newer questions. 
3. Lyse also tried to vary her answers, in terms of length, detail and informality. Some people wanted to know about life in Iran; others more about how we broadcast and her career as a journalist. She tried to wade into a variety of themes and also engage in conversations with some redditors (ie. not just answering one question and then immediately moving on to another).  
4. Our correspondent answered questions for two hours, before ending the AMA with some closing words and thanking everyone for their participation.
The feedback
1. Lyse said she was surprised by the range of thoughtful questions, and that she had expected to be grilled more on facts about Iran, its nuclear arsenal and human rights record. She said she found it gratifying to communicate more generally about life in Iran.
2. The format of the AMA can make it a little confusing to focus initially. It's hard to work out what questions to answer first and, as the AMA gets going, whether to go back to previous conversations/threads.
3. The ratings box at the top right of the page is a useful guide to help you track how well you're answering questions. It provides a running score on how redditors are rating the experience.
4. The language used was informal but generally polite. Lyse had a number of light-hearted conversations about food, language and travel - as well as more serious conversations about editorial independence and working as a woman in Iran.
5. Generally speaking the experience proved fruitful and seemed to offer a good opportunity for BBC correspondents to engage directly with a social media audience on their area of specialism or expertise, or following an event or story. A summary of some of the top questions/answers was produced for the BBC News website.
So how were Lyse's opening scores? She recorded 97,008 page views, 53,348 unique page views, and people spent an average of 1:46 minutes on the page.
Reddit told us that was "incredibly high for a news personality or reporter", adding: "She did very, very well. Congratulations, you should be proud!" We are, and we will definitely be looking to hold more Reddit AMAs soon - although Lyse will be a hard act to follow.
Other social media blogs by Mark Frankel
Engaging social media audiences
Digital interaction? Make sure it's a two-way street
#BBCTrending's first question-and-answer session just had to be on Twitter
Crowdsourcing with #nhswinter is for team players only
My first Twitter adrenaline rush - and glad you liked the jacket