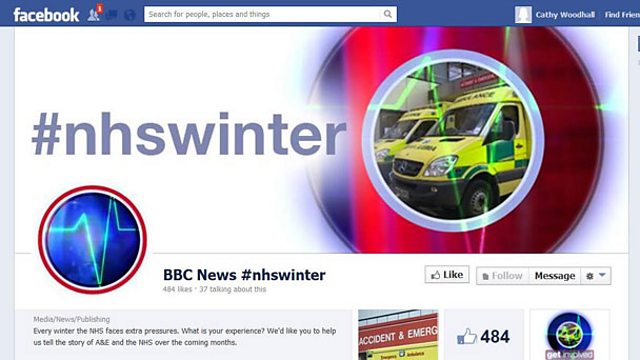 I realised early on I needed at least one accomplice. As it turned out I've ended up with many co-conspirators in creating #nhswinter. Some ideas rattling round my head have become a collaboration relying on the skills, good will and advice of a whole bunch of people.
The #nhswinter project combines our TV, radio and online news reporting of the winter pressures on accident and emergency departments with a data tracker and a Facebook page. I wanted to amplify the impact of our storytelling and find a different way of engaging with audiences around a particular subject.
So if you go online at bbc.co.uk/nhswinter and put in your postcode, you can see an unfolding story about your nearest big emergency department in England. You can see how many ambulances have been left queuing outside the hospital, whether routine operations have been cancelled, and how quickly patients are being seen in A&E.
All of this data is published weekly, some just over winter months, by the NHS in England. With A&E pressures continually to be in the headlines, it was an opportunity to make news personal.
This data feed is the anchor of the project. Working out what was available, how it was coded in NHS data sets, and how that related to postcodes, was probably the most complex task. I became a matchmaker between NHS statisticians and the BBC's visual journalism team as they worked out how to make a data tracker possible. I thought it would be worthwhile as we could offer something extra.
As the team's John Walton says, data is often hiding in plain sight but obscurely presented: "Surfacing figures for each NHS Trust enables people to find out information of interest to them and their locality that would otherwise be hidden unless they had the time and patience to source and examine the figures themselves." There have been almost 700,000 page views since we created the tracker.
In the meantime I'd hijacked Pat Whitehorne from the BBC social media team to join me in a conversation with ProPublica - an investigative journalism bureau in the US which has used various types of crowdsourcing for stories. As I had hoped, Pat was inspired, and agreed we should see how to add a social media element.
I narrowed down the name to #nhswinter and, after taking advice from Facebook, Pat set up a page where people could share their personal experiences.
I am sparing you the many tortuous hours of BBC conversations to consider how to manage the potential pitfalls of doing this, even though we put callers live on air on the radio on a daily basis. It became clear it was essential to have the backing of the social media team to moderate the page 24/7, and to have someone to help manage the page.
Time was short, as was money. Cue my original accomplice Huw Owen - about to leave the BBC but willing to be my ally and sounding board. He levered out the money based on my proposition, and Tammi Walker was lent from her role on the BBC News Channel to manage the content on Facebook and help with the broadcast side of the project.
To meet the concerns about risk, we'd opted to post to the Facebook page ourselves, with the public able to respond. We've had some interesting contacts, including paramedics as well as patients, but Tammi raises a good point: "In retrospect, I think we have had to rely on us producing content - then audiences responding and reacting to it. I feel that if we had left it open we could possibly have garnered a wider range of content."
So might there be a less risk-averse approach in which we could create a space for a different kind of conversation? Tammi thinks we all need to loosen up, BBC correspondents particularly, when it comes to social media. As she says, authenticity and warmth don't undermine authority.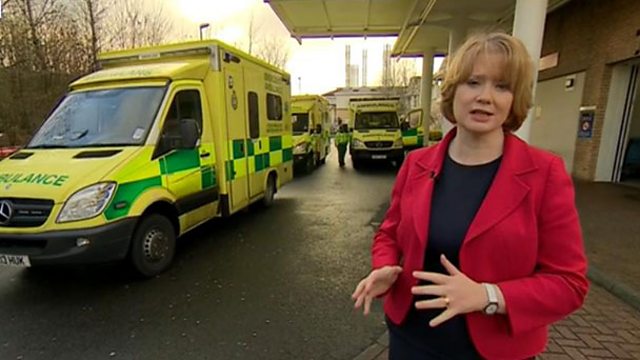 We've used Freedom of Information requests with the help of our FOI specialist Martin Rosenbaum to generate stories which have been picked up far and wide, adding a UK-wide dimension to the project. We uncovered patients waiting up to six hours in ambulances outside hospitals in Wales, and the repeat visitors going dozens of times to A&E.
The broadcast pieces are a platform for trailing the data tracker, and each time we do so the traffic increases. Each Friday a health correspondent reports on the News Channel with the latest figures. The FOI and other data have been shared with BBC health correspondents in the region and nations, leading to spin-off stories. Each week our tracker is being retweeted by individuals, patient groups, NHS staff, health officials and bloggers. It's even featured in a blog by the House of Commons Library for MPs.
I was also pleased to notice that ProPublica has started offering a data tracker for emergency room waiting times. Around BBC News, I've now been approached by people wanting to set up similar projects.
As this is a blog I can only ask you to imagine the credits rolling. They include:
Conversation that got me thinking - Peter Horrocks
Original co-conspirator - Huw Owen
Visual journalism team led by Amanda Farnsworth: John Walton and Dominic Bailey on editorial, Ransome Mpini and colleague Chris Ashton on development and Charlotte Thornton on design
Social media led by Chris Hamilton: Patricia Whitehorne and Tammi Walker
FOI: Martin Rosenbaum
Six and Ten O'Clock News producer Alison Francis
BBC News Channel tablet lives: Henry Clarke Price
Reporting numbers: Chance and patterns
Small communities can have a big impact on your journalism
When 999 calls are the story, tell it on Twitter