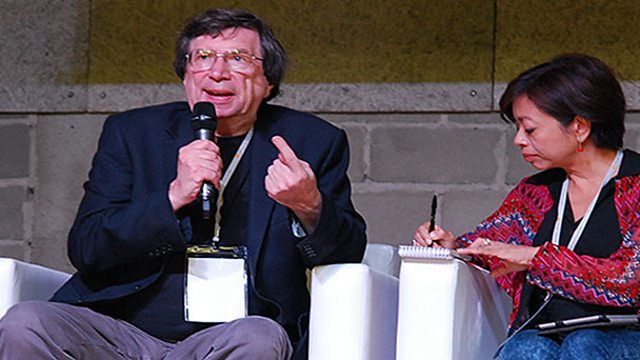 With the Fifth Estate on cinema screens, Edward Snowden hiding in Moscow, the editor of the Guardian smashing up a hard drive in front of government officials, and new exposes gaining notoriety every few months, the sometimes murky world of investigative reporting is perhaps enjoying its highest levels of exposure since Watergate.
It's an area of reporting that is rife with dangers and threats, both physical and legal. Journalists in many countries have organised associations that support and promote investigation. The UK has the Centre of Investigative Journalism; the US has Investigative Reporters and Editors; Norway has SKUP. Many of these national groups collaborate in an international confederation called the Global Investigative Journalism Network.
Every two years, the GIJN runs a conference that brings together journalists from around the world. For this month's 8th Global Investigative Journalism Conference on the leafy campus of the Pontifical Catholic University in Rio de Janeiro, the GIJN partnered the Brazilian Association of Investigative Journalists (ABRAJI) and the Institute for Press and Society (IPYS) based in Lima.
Around 1,300 journalists from 92 countries tuned into a choice of more than 150 panels, lectures and workshops covering themes from corruption and fraud investigations to covering conflict and writing sensitive stories.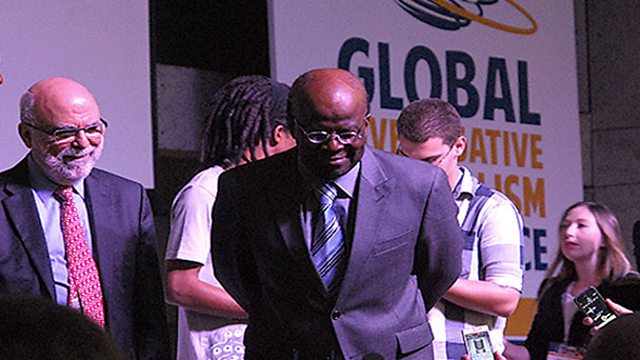 Brazilian supreme court president Joaquim Barbosa takes questions from the floor
The panel featuring the president of the Brazilian Supreme Court, Joaquim Barbosa (right), had a lot of local interest. Barbosa is the judge-rapporteur for the '
Mensalão scandal
' trial - a big political corruption case, exposed by the media, that rocked Brazil.
BBC Panorama editor Tom Giles (pictured below right, with Swedish TV reporter Fredrik Lauren) shared his programme's approach to investigative journalism, and I was there to talk about social media and investigative tools. The feedback was incredible, with Tom's session so popular they had to lock the door to stop more people cramming inside.
And, with the football World Cup coming to Brazil in 2014, it was a particularly interesting time and place to explore the art of investigating sport. The colourful figure of Andrew Jennings has been a thorn in FIFA's side for years and he has made documentaries on the subject for Panorama.
Andrew spoke about how he managed to inspire "people on the inside" to help him. For this to happen, he said, honest, decent insiders who work for sporting companies need to know that there's a journalist they can connect with. With this in mind, Andrew came right out at a FIFA press conference and asked its president: "Have you ever taken a bribe?" The answer received was, of course, a resounding "No", but the message was clear. A journalist was on the case.
Days later Jennings said he received vital information that helped his investigation. It's safe to say he isn't on Sepp Blatter's Christmas card list.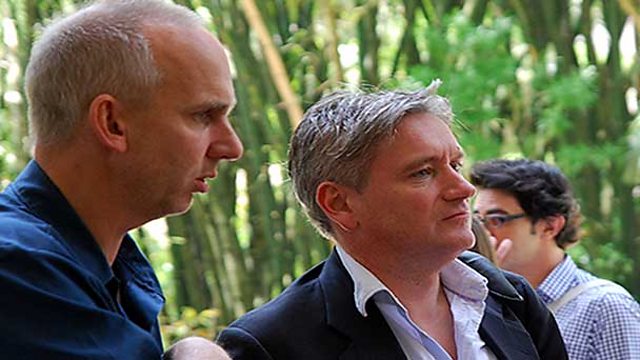 Panorama editor Tom Giles (right) with Swedish TV reporter Fredrik Lauren in Rio
Many of the speakers in Rio conveyed the idea that we are at the dawn of a new era of journalism - one where journalists must embrace the fast-evolving nature of mobile technology or risk being left behind.
Nils Mulvad
, a professor at the Danish School of Media and Journalism, surprised many when he revealed that the most widely posted news source on Facebook members' walls is BuzzFeed. The snappy, viral content provider is miles ahead of traditional media outlets.
In an opening session, recently retired Guardian investigations editor David Leigh saw the new era as characterised by two main aspects: massive data leaks and mass co-operation between journalists. This was certainly the case with the notorious WikiLeaks release of sensitive military documents now portrayed in the film the Fifth Estate.
David (pictured top) was central to the Guardian's handling of the story and spoke about the huge collaborative effort to turn the 2-gigabyte data dump into stories. "WikiLeaks showed that there has been a shift in technology that will create a shift in journalism," he said.
Leigh, who collected the conference lifetime achievement award, cited two further examples: the Offshore leaks project - exploiting data that shines a light into the shadowy world of shell companies, revealing true ownership information and, with cross-border collaboration, many stories of international interest; and the Edward Snowden leak of sensitive NSA data.
While WikiLeaks and Offshore leaks presented problems in handling and sorting the huge bulk of data, the Snowden documents brought political problems into the mix. The former Guardian man vividly described how UK government officials forced the Guardian to chop up a hard drive with an angle grinder.
This story was central to the keynote panel, with one-time Guardian contributor Glenn Greenwald revealing how Snowden had initially approached him with the stolen data, and the lengths the paper had gone to in order to establish his credibility.
Greenwald described how he handled his source and the political battles he went through to publish the Snowden leaks. Intriguingly, he said there are many more shocking stories to come from Snowden and the leaked data. He answered questions about how his source had been forced to seek asylum in Russia - not a political move, he concluded. It was basically Russia or jail.
Conferences such as the GIJC are great places for investigative journalists to develop their craft. They allow beginners to learn from veterans; veterans to learn new technologies. They allow us all to learn from the hardships, challenges, sacrifices and achievements of those whose stories have shaken our world.
The next GIJN conference will be held in Lillehammer, Norway, in 2015. In the meantime, anyone wanting tipsheets from this year's event can find them on the conference website.
This blog was co-written by Laura Rezende Malouf, a journalism student at PUC University, Rio de Janeiro.
Photographs: Paul Myers
Searching social media? Don't miss what's hiding in plain sight
Paul Myers delivers this one-to-one course for BBC staff only: Advanced Internet Research Consultancy