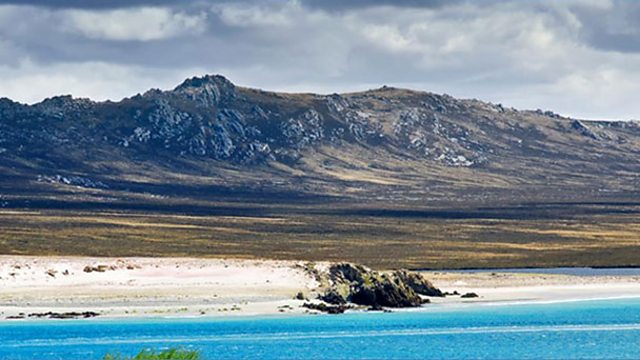 It's not often you get a lift home in a police car, especially when the officer simply wants to "save you the walk".
And yet that's what happened to me on the Falkland Islands. It was 2009 and on my first morning there I woke up with a sore back. Two steps across the bedroom at the B&B it went into spasm and I could barely move. I called for help and within a few minutes I had been strapped to a stretcher, given gas and air and was on the way to the hospital with what turned out to be a slipped disc. In the next week I was admitted twice more, and for the rest of my stay I struggled to walk around Stanley, slowly limping from where I was staying to where I was working.
It was my second visit to the islands as a guest of the manager of the local radio station. Corina Goss had read my books and articles on radio presentation and journalism and asked me whether I'd like to go and help train her staff. "We can't pay you," she warned "but we'll sort out your flights and accommodation." How could I refuse the opportunity to visit the islands for a second time?
It was the flight that was the cause of that slipped disc. It had seemed a good idea to stretch across the three seats as my plane crossed the Atlantic for 14 hours en route to Santiago, but it cost me: in excruciating pain and a lifelong limp.
The injury didn't curtail my training sessions at Falklands Radio too much. In fact it was mentioned on air so often I was known around town as 'the man with the back' and became a minor local celebrity. Which is what led to one of the local police officers stopping to give me a lift back to the B&B as I limped back from work one afternoon.
And when I returned this January for my third visit in 13 years (taking the more direct Brize Norton - Ascension - Falklands route) more than one person remarked: 'Oh, you're the man with the back! I remember you… how is it?'
It's perhaps not surprising that so many people knew who I was. Stanley has a population of a mere 2,500 and is the only conurbation other than at the Mount Pleasant military base an hour's drive away. Another 500 people are scatted among the 700 or so other islands that make up the Falklands, which have a total area three quarters the size of Wales.
At this point let me debunk some Falklands fallacies: it doesn't always rain - in fact the weather is similar to the UK's, with more sunshine, less rain but more wind - and the islands aren't filled with sheep. It is true that before 1982 sheep farming dominated. Now, even though there are still about 500,000 of them, there's much more employment in fishing, tourism and private businesses. Indeed the islands have a strong and growing economy (using sterling), a junior and secondary school and, yes, a hospital. There are supermarkets, electricity, broadband, cable TV and mobile phones. The people there are hugely welcoming and obviously patriotic to the Islands and the UK (that last bit you undoubtedly knew).
On the first morning of my recent stay I was able to drive (on the left, obeying UK-type road signs) straight to the radio station. My daily commute took me down to the jetty where the cruise ship passengers come in, and along the main Ross Road, past the brightly coloured corrugated metal roofs of houses and offices of the British Antarctic Survey, and Victory Green. Barely a minute. Yes, I could have walked, but people don't tend to. They drive, and wave at almost everyone they pass en route.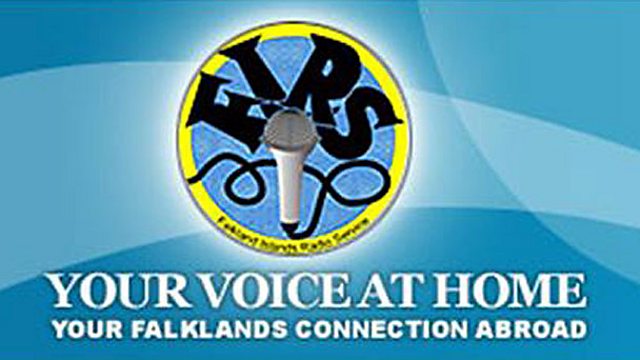 Falklands Radio (FIRS) is based in the centre of town and started in 1929 as a wired service from the studio, direct to speakers in local homes. It became wireless in 1942 and was an important way of passing on information, including about curfews and blackouts during the 1982 conflict. Station manager
Patrick Watts
once famously broadcast with an Argentine soldier holding a gun to his head. In 2005 the station was transferred from government ownership to the management of the
Media Trust
.
Today much of the station format will be familiar: between 7am and 9am there's a breakfast show with music and dedications, news and weather (but no travel news, obviously); then a 'Golden Hour'; and a mid-morning lifestyle programme between 10:00 and 13:00, with requests, 'what's ons', the job spot, announcements and an extended lunchtime news from 12.15 to 12.30. The news starts at quarter past the hour, to give people time to leave the office, pick up the kids from school, get their lunch on and then hear it in its entirety.
Station manager Corina presents the Golden Hour. Her mother Liz hosts the mid-morning programme, and Liz's husband Jock presents a few specialist music evening shows, as well as Saturday breakfast. That kind of arrangement is not uncommon on the islands. It's not nepotism, it's practicality. In any business or government department there are simply not many people to choose from to do the jobs that have to be done. So it's not uncommon for people to have two jobs or to come across people with the same surnames, or to be working with your own relations, or those of your friends. Those same surnames may also be seen on street names across the town.
Falklands Radio has five full-time members of staff: the mid-morning presenter/music manager, two reporters, a receptionist/administrator and the station manager. The team is supplemented by a variety of freelance presenters who present evening and weekend shows ranging from folk, country and accordion music to a request show, classical hour and 'children's corner'. Like the BBC, they have to be 'all things to all people' because the service is paid for by the central Falkland Islands government. Some other radio programmes, mainly from BBC Radio 4 and World Service, are run too. These used to be provided free by the BBC but the station now has to pay the market rate for them. FIRS runs around 100 hours a year of programmes from BBC Radio 4 and World Service, but the cost of these has just quadrupled.
Since 2009 local news bulletins are on the hour. News is also broadcast in longer lunchtime and afternoon programmes, and daily interviews are carried in the mid-morning show. The two reporters work hard to broadcast live coverage of the islands' Legislative Assembly and other public meetings and debates - as well as the Sunday evening service from the cathedral - so that everyone who needs to know hears what decisions are being made and why.
The two radio studios are a good size with some decent equipment: the playout system is Dalet, they use the Selector music scheduling system and they edit audio on Adobe Audition. The studios are maintained by engineers from BFBS which is based at the military base at Mount Pleasant and whose own station  can be clearly heard across the Islands. Because FIRS is paid for out of general taxation, it has to provide a popular general service, minority-interest programmes and a large amount of local speech content. Now that has a familiar ring.
In part two of his Falklands blog Peter Stewart describes some of the unique editorial considerations that come into play when such a small community is reporting on itself.
How the law affects journalists