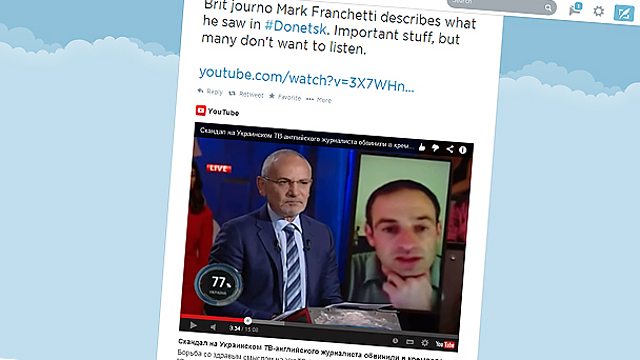 Mark Franchetti live from Moscow on a Ukrainian state TV talk show
UK journalist Mark Franchetti's dramatic reportage from the front line of the struggle in east Ukraine has seen him caught up in the propaganda war that is fuelling the killing there.
On 8 June, the Sunday Times published a report (paywall) by Franchetti, the paper's long-standing Moscow correspondent, of a deadly skirmish between pro-Moscow separatists and Ukrainian government forces near the frontier with Russia.
Franchetti and his photographer Dmitriy Belyakov were accompanying the separatist Vostok battalion when it came under fire near a border checkpoint. After four hours of fighting, during which two of the separatist fighters were killed, Franchetti, Belyakov and around 80 Vostok men took refuge across the Russian border.
Franchetti's depiction of the Vostok battalion as "brave, enthusiastic", but largely untrained locals from east Ukraine with a smattering of Russian volunteers, differed significantly from some Western reports which suggested it had a significant Chechen contingent linked to the Russian foreign intelligence service. It also flew in the face of Ukrainian government and media descriptions of the separatist fighters as Moscow-backed "terrorists".
But it was not until Franchetti repeated his account of his time with the Vostok fighters on Ukrainian state TV's premier political talk show Shuster Live on 13 June that he stirred controversy.
"They are mainly normal, ordinary citizens who are absolutely convinced they are defending their homes - as they put it - against fascism," he said. Franchetti was non-committal on his own view, saying that whether such fears were justified was "another question".
A government official on the show accused him of being the dupe of the Russian Federal Security Service (FSB), while a masked pro-Kiev fighter said he was "lying".
Speaking via Skype from Moscow, Franchetti stressed that he was not saying there were no Russian troops operating in Ukraine, but that he did not come across any himself. "I can only speak about what I saw with my own eyes," he told Shuster Live.
Back in Russia, he faced similar accusations, with well-known liberal blogger and former TV executive Alfred Kokh saying he had done a "small favour for the FSB".
Franchetti is a journalistic veteran of the war in Chechnya and accusations of conspiracy and collusion are nothing new. But, as he explained to liberal Russian website Colta.ru, in the past it was the Russian FSB which accused him of being an agent for the West.
Now though Franchetti is flavour of the month for the Kremlin and its supporters. Pro-Russian Ukrainian politician Oleh Tsaryov hailed him for "penetrating the Chernobyl sarcophagus of disinformation covering Ukraine", while state-owned Russian Channel One TV said his appearance on Shuster Live had the "effect of an exploding bomb".
Channel One gave the impression that Ukrainian TV had committed some sort of gaffe by allowing Franchetti to tell viewers the "facts" about the struggle in east Ukraine. But it was clear that host Savik Shuster, who used to present talk shows on Russian TV until forced out by Kremlin pressure in 2005, deliberately invited Franchetti to challenge the official Ukrainian line about the conflict and help clarify who is "taking up arms and killing people on Ukrainian territory".
On Russian state TV such an approach is almost unthinkable. As TV critic Yuriy Bogomolov noted at the time of the annexation of Crimea in March, in the past talk shows on Russian national TV channels used to feature the odd "whipping boy" to "give the appearance of debate", but now they have "stopped even playing at objective journalism".
The edition of the flagship talk show on official channel Rossiya 1, broadcast two days after Franchetti's appearance on Shuster Live, began with host Vladimir Solovyev denouncing the authorities in Kiev for using "cruel methods and illegal weapons" to pursue their aim of "cleansing" rebel areas of people. It continued in that vein, with guests branding Kiev and its supporters "fascists" and blaming Washington for instigating the conflict - without a discordant voice to be heard.
Russian state TV is widely watched in Russian-speaking parts of Ukraine, and is still available via cable in rebel-held regions.
According to Franchetti, the influence of TV on the conflict in east Ukraine can hardly be overstated. "You know, this is the first time in my life that I am covering a conflict in which journalists have played such an important role. They have direct responsibility. When you realise that people have taken up arms and repeat word for word what was said the previous evening on [state Russian news channel] Rossiya 24, this is terrible," he said in his interview for the Colta website.