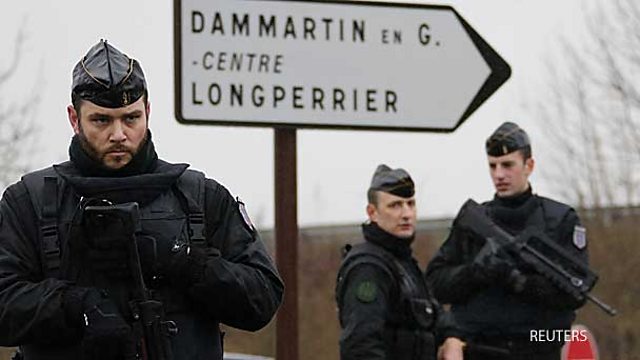 On the day of the Charlie Hebdo shootings I was sent out to Paris to report for BBC Radio 5 live as the events unfolded. When I came back to Britain I made some notes about the way we and other broadcasters had worked in Paris. The following details some of the ways we were able to broadcast from a fast-changing and fluid news event using mobile technologies as well as more mainstream methods:
The shootings in Paris took the world by surprise. The scramble to get to France meant everyone had to make quick decisions. With two hours' notice of catching a flight to Paris, there was little time to pack. We would be arriving in Paris with an hour before my station's evening news programme, Drive, started. As we were flying in to Charles De Gaulle airport, I knew the journey into the city at that time of day would take the best part of an hour.
My producer, Sophie McDonnell, and I had decided we would only take hand luggage. But as my bag held all my broadcast kit - a satellite transmitter, an ISDN codec, cables, microphones, headphones, an iPad, mic adapters and enough chargers and batteries to keep everything powered up - there wouldn't be much room for clothing.
Batteries
The first thing I packed was spare batteries. I knew it was going to be a huge problem, and so it proved. Major news events like this move fast and information is released on a continual basis. The old-fashioned idea of a 'news conference' being held to disseminate facts has disappeared. We kept across streams of news and tips and requests and simple housekeeping information by smartphone. In three days I received more than 800 emails to do with events there.
We realised, fairly quickly, that we were going to have to charge our kit as we went along. Not only were we receiving information - we were broadcasting too using our phones to photograph, edit and file, to record audio and video interviews, edit them and file them back to base. I was using my iPhone and iPad to broadcast live on using Luci Live. If we weren't on air, we were photographing and recording, editing and mixing.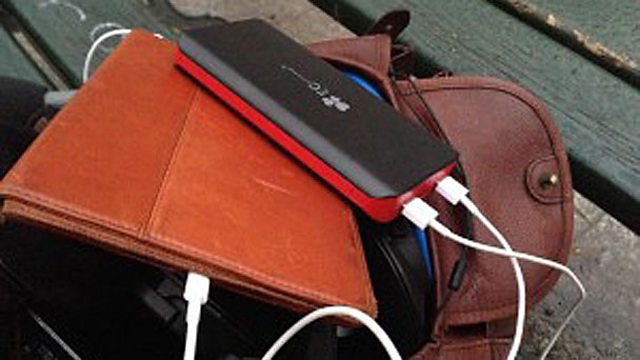 I was carrying a large-capacity battery with me. It had two USB sockets on it - one charging at 2.1a - and enough capacity to provide 20 0-100% battery charges for a smartphone. Without it we'd have gone 'dark' within the space of a couple of hours, as our phones, at least initially, were hammered as we received information and filed audio and pictures.
IP versus satellite
Broadcasting over IP - the internet - has a number of advantages on moving news events: rigging a satellite dish takes about five minutes but requires a direct line of sight. My Hughes 9202, for instance, needs to point almost due south. If you can't 'see' the satellite then you can't broadcast. It also needs a metre of uninterrupted space in front of it for safety reasons.
With 35,000 people around me in La Place De La Republique, you can imagine how finding a safe spot was pretty hard. TV trucks have the benefit of being a large physical 'thing', covered in logos. But TV trucks have a problem: they have to park and they're relatively slow to set up and take down. A portable sat dish is quick to rig, small enough to fit in a messenger bag and powered by its own, internal, battery. BUT you need somewhere safe to site it.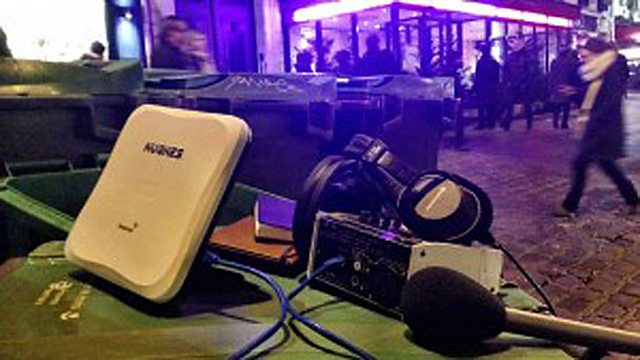 On the face of it, my decision to put it on the top of a wheelie bin might not seem so safe, but we were able to surround it by other bins to give us a one-metre safety zone, and the height allowed the dish to see the satellite in the sky. There was a downside to it that my producer Sophie spotted before I did: it did smell a bit.
So why couldn't I use IP and my iPad to broadcast? Well, with so many of the crowd on Facebook, Twitter and calling friends the networks collapsed. Everywhere we looked people were on smartphones. Wi-fi would have been an answer but shops (normally pretty decent at letting you share a password in an emergency) were closing early. So the only solution was satellite, and it worked really well.
IP came into its own at other times, though. The next day, Thursday, I was sent to Paris's Grand Mosque. Religious leaders from all faiths were meeting there as a sign of solidarity. I was on my own when the doors to the mosque were opened and reporters allowed in.
One of my programmes wanted a live with me. Given the huge security sensitivities, the idea of pulling out a wire-festooned sat dish, microphone and cans would not have been a good move. But I had a decent 3G signal on my phone and was able to slip a pair of headphones on and link up on Luci Live. Interestingly, whenever I used a speed test app I noticed I was getting much better and faster 3G network speeds than I do in the UK. We were able to broadcast live from inside the courtyard of the mosque.
iPhones for multimedia use
In my idealised, romantic view of the world of journalism and broadcasting, I would have spent my days using my iPhone for video: filming as I went along and filing the pictures back to work. Some of the places we were given access to were only made available to us because of the portable, discrete and 'non-journalist-looking' kit we were using.
We were able to meet French-Algerian students in cafes. Sophie was able to talk to hijab-wearing Muslim women who chatted to her about the level of abuse they were being subjected to. We were able to get closer to the people we wanted to talk to because the kit we were using was so 'low-level'.
We didn't film any of it, though. Part of me feels as though I missed an opportunity; that we would have been able to illuminate the story much more if we'd filmed it as well. But the reason behind the decision was two-fold: our batteries would have gone flat far more quickly and we needed to spend our time gathering the audio and getting that right, rather than having poorly recorded pictures AND poorly recorded audio.
Much of this was down to the compromises with kit we'd had to go with. We didn't have a laptop for video editing; we didn't have a car to store equipment; we didn't have fast enough networks to file video at high speed; and we didn't have the luxury of time.
In 60 hours on French soil, Sophie and I broadcast 53 separate pieces on different networks. We took a decision to concentrate on our primary role - TV had enough crews on the ground now and there was no need to think we'd get 'better' shots on our phones than the trained camera crews would get with their HD equipment.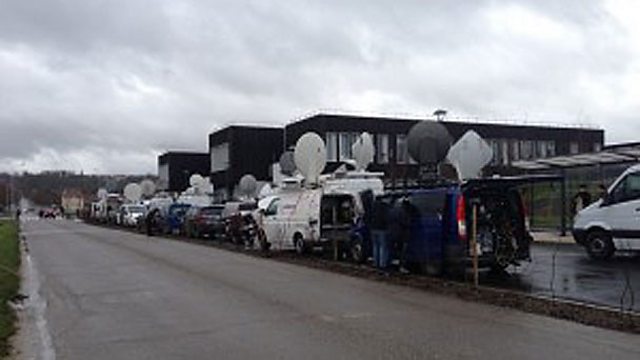 Even for networks which didn't send their own teams, there syndication deals were put in place that allowed for material to be bought and shared. Sky managed to get footage, from one such deal, broadcast via LiveU from a car in the middle of the convoy of police vehicles heading down the N2 from Picardy towards Dammartin where the two gunmen were.
We headed up from the other direction, the centre of Paris. We'd managed to drive to the village fairly early and were lucky enough to be allowed to park up with a few other sat trucks next to a school where children were being kept safe while the siege continued.
The radio car was the perfect vehicle to broadcast from. Once in location, Radio 1 Newsbeat's Duncan Crawford sat in the back seat cutting his pieces on a laptop and presented the programme live from the village. Sophie and I alternated reporting for BBC World Service, Radio 5 live and the BBC's Local Radio network - and we were able to do it all at the same time. The VSAT dish was able to pump out three simultaneous live feeds to three separate parts of the BBC.
It was another example of where it was best to be pragmatic and not try to broadcast over mobile phone networks. Signals were patchy and the amount of traffic being fed over them was heavy. It's the reason why point-to-point satellite comms are still essential on occasions like this.
The end of the siege
We weren't there when it ended. With the rest of the reporters, we were kept back about 500 metres from the industrial park where the two men were shot. We'd seen huge numbers of police and special forces; half a dozen helicopters flying in; specialist tactical vehicles moving into position. And then the shooting started. It was over in a few minutes and we broadcast what information we had.
We were getting updates sent to us from some amazing journalists in the BBC's Paris office who were monitoring and confirming lines before emailing them out to us. Another reason why we couldn't be broadcasting on our phones: it was where we were getting our information from.
The same team was supplying our colleague, Phil Mackie, who had flown in to Paris to relieve us in Dammartin only to find a gunman had attacked a Jewish supermarket in the city and murdered four people out shopping. He was able to broadcast on Luci Live from the scene, as 'seeing' the satellite was pretty difficult in that area of Paris.
With our main presenter, Rachel Burden, anchoring events for us in the city centre, we were able to provide radio coverage from the three main sites of the events in Paris using a combination of broadcasting methods - which is, at the end of it all, the best way we could have worked: picking the right tools for the job.
A few hours later I was back in Dammartin for 5 live Breakfast. My taxi driver managed to convince the gendarme at the roadblock that I was a local and was allowed to drive me past the building where the siege had ended. A few more broadcasts, a slight hiccup as I dropped my phone in the taxi (with credit cards, driving licence/ID in the same wallet!) - only for the best producer in the world - Sophie McDonnell - to arrange for the world's most honest taxi driver to come back to the airport and give them back to me.